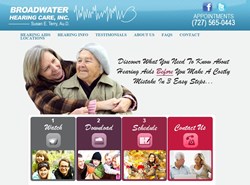 I never realized how much I was missing. My hearing aids have become my #1 companion.
St. Petersburg, FL (PRWEB) October 21, 2012
Broadwater Hearing Care, the leading provider of hearing aids in St. Petersburg is pleased to announce the launch of its new website at http://broadwaterhearingcare.com and accompanying Facebook Fan Page at http://www.facebook.com/broadwaterhearingcare. The website contains a wealth of new resources including information about digital hearing aids, choosing the right style of hearing aid and the expected cost for various new hearing aid technologies. In addition to improved content, the redesigned website also makes it much easier to schedule an appointment and contact the doctor with questions. The accompanying Facebook page is a place where patients can ask questions and engage in a dialogue about hearing loss solutions with other St. Petersburg residents and the staff of Broadwater Hearing Care.
Broadwater Hearing Care is owned by Dr. Susan Terry, Au.D. Dr. Terry received her Bachelor's and Master's Degree in Audiology from Florida State University and her Doctor of Audiology degree from the Arizona School of Health Sciences. She is a fellow of the Academy of Doctors of Audiology, the American Academy of Audiology and the Florida Academy of Audiology. She is a past officer and board member of the Audiology Foundation of America. In 2010 Dr. Terry was awarded the prestigious David P. Goldstein, Ph.D. Outstanding Audiologist Award. Part of the success of Dr. Terry's audiology practice in St. Petersburg comes from her recognition that each person's hearing loss is unique. Dr. Terry specializes in difficult to treat hearing loss and understands the special needs of her patients.
The website redesign demonstrates Broadwater Hearing Care's continued efforts to help its patients throughout the process of purchasing a hearing aid from the initial research to the final fitting.The entire staff at Broadwater Hearing Care is looking forward to the impact that the new website will have. They expect that the new website will help new patients through the process of purchasing their first hearing aid and that the new Facebook page will allow them to engage their audience in a more casual setting. To see the new website design, and to learn more about Broadwater Hearing Care, visit broadwaterhearingcare.com.
Contact:
Broadwater Hearing Care
4107 5th Avenue North
St. Petersburg, FL 33713
(727) 565-0443
http://broadwaterhearingcare.com