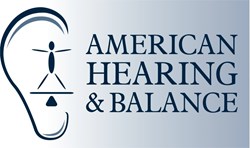 Torrance, CA (PRWEB) May 25, 2013
To share hearing health advice and tips with people who wear hearing aids in Torrance CA on a regular basis, American Hearing & Balance recently created a blog on the company website.
The audiologists at American Hearing & Balance have compiled a large list of categories and topics for the blog section. The article content will cover topics including cutting-edge research into reversing hearing loss, to new developments in hearing aid technology, to detecting hearing loss in children, and answers to frequently asked questions. The audiologists expect to write a new post on the blog about once per week. Posts added to the blog section will also be readily available via the company's Facebook and Twitter accounts. An RSS feed will automatically distribute all new posts.
American Hearing & Balance is encouraging everyone who wears hearing aids in Torrance CA as well as all former and current patients to visit the blog regularly. Currently, the blog only contains a handful of articles, but it will expand rapidly over time. As of today, visitors will find information on the following topics:

Research Advances that Could Lead to Reversing Hearing Loss by Regenerating Hair Cells
Finding the Best Mobile Phone if You Use a Hearing Aid
What is Tinnitus Retraining Therapy (TRT) and What Types of People is it Appropriate For?
Being Safe at Home when a Loved One is Hearing Impaired
To be responsive to the needs of Torrance CA residents, American Hearing & Balance encourages anyone with hearing loss or who wears hearing aids in Torrance CA to submit additional category or topic suggestions.
About Dr. Keith Michaels
Dr. Keith Michaels, Doctor of Audiology and Hearing Instrument Specialist at American Hearing & Balance, received his Masters Degree from California State University, Los Angeles and his Doctorate in Audiology at Florida University. Dr. Michaels has helped fit thousands of people with hearing aids and loves to work with people who have problems with their balance and/or vertigo.
About American Hearing & Balance:
American Hearing & Balance is a family owned business providing superior hearing healthcare services in Los Angeles and surrounding communities with seven offices in Los Angeles, Manhattan Beach, Santa Monica, Marina del Rey, Westchester, Torrance and Glendale. They offer a full range of diagnostic and preventative hearing healthcare professional services, including hearing tests, hearing aid sales, and rehabilitative and counseling services for those with hearing loss. Additionally, American Hearing & Balance stocks all the most common hearing aid accessories including cleaning supplies, hearing aid batteries and cell phone adapters. American Hearing & Balance is dedicated to keeping abreast of the latest improvements and technological advancements in the hearing industry and is committed to offering the most current options to patients.
Contact:
Dr. Keith Michaels
http://americanhearingbalance.com
American Hearing & Balance
3875 Wilshire Blvd, Suite 302
Los Angeles, CA 90010
213-536-4543
American Hearing & Balance
2809 North Sepulveda Boulevard
Manhattan Beach, CA 90266
310-803-9700
American Hearing & Balance
1318 2nd Street, Suite 1
Santa Monica, CA 90401
310-773-3972
American Hearing & Balance
4640 Admiralty Way, Suite 1020
Marina del Rey, CA 90292
310-773-4453
American Hearing & Balance
6229 West 87th Street
Westchester, CA 90045
310-803-9848
American Hearing & Balance
20911 Earl Street, #470
Torrance, CA 90503
310-803-9501
American Hearing & Balance
633 North Central Avenue
Glendale, CA 91203
818-396-8161