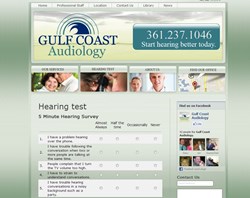 Online evaluation facility can be extremely useful for people who feel suspicious about their hearing condition
Victoria, TX (PRWEB) November 13, 2012
It is now possible for anyone in Victoria TX to evaluate their hearing simply by taking a convenient online hearing test. This useful facility has just been made available to all by Gulf Coast Audiology, the clinic of choice for different types of hearing aids in Victoria TX. The online hearing evaluation involves filling out a short survey consisting of 15 questions with multiple choices for each of them.
Hearing tests are an important part of any audiological treatment and are done to evaluate the sensitivity of a person towards his/her sense of hearing. Most hearing clinics perform these tests using an audiometer. Rinne test and Weber test are the other common types of hearing evaluation tests. However, an online hearing test can be extremely useful for people who are unsure they need a professional test. With the online hearing testing service from Gulf Coast Audiology, they can perform a quick home diagnostic before scheduling an appointment with an audiologist or hearing specialist.
Gulf Coast Audiology is one of the most well known clinics in Victoria TX for any type of treatment relating to hearing disorders and the dispensing of hearing aids. They are an advanced hearing care provider that offers a wide array of services including evaluation of hearing, specialized testing, and hearing screenings. Gulf Coast Audiology is a one stop shop for any hearing-related needs including diagnostic audiological evaluation, hearing aid dispensing &fitting, cerumen (ear wax) management, and custom earmolds
The credit behind the steady growth of Gulf Coast Audiology can certainly be attributed to the highly proficient audiologists of the clinic, led by Clay Green. Clay has been offering hearing care of the highest order for more than a decade and has been the brain behind the introduction of the new online hearing test. According to reliable sources, many people with hearing related problems have already used the web-based hearing test introduced by the clinic.