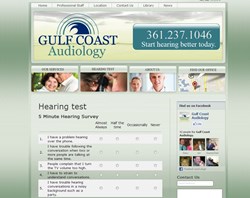 In order to provide its clients with the best experience possible, Gulf Coast Audiology extends its complimentary hearing exam through January.
Victoria, TX (PRWEB) December 26, 2012
Gulf Coast Audiology, the company known for providing hearing aids in Victoria TX, recently extended its complimentary hearing screening through January. Gulf Coast Audiology is one of the most well-known clinics in Victoria TX for any type of treatment relating to hearing disorders and the dispensing of hearing aids. It is an advanced hearing care provider that offers a wide array of services including evaluation of hearing, specialized testing, and hearing screenings.
Hearing tests are an important part of any audiological treatment and are done to evaluate the sensitivity of a person towards his/her sense of hearing. Most hearing clinics perform these tests using an audiometer. The offer now allows new patients to check their hearing without an obligation to purchase any items.
Mr. Clay Green of Gulf Coast Audiology is a leading audiologist who has been providing South Texas with quality hearing care services for the past ten years. A native of South Texas, Clay received his Bachelor of Science degree from Stephen F. Austin in 1996 and his Masters degree in Audiology from Lamar University in Beaumont, Texas in 1998. Clay is currently a member of the following professional organizations: Texas Academy of Audiology, American Academy of Audiology, American Speech, Language and Hearing Association.
About Gulf Coast Audiology:
Gulf Coast Audiology has provided hearing aids in Victoria TX and its surrounding communities for several years. The company offers a full range of diagnostic and preventative hearing healthcare professional services, including hearing aid screening, evaluations, hearing aids sales and rehabilitative and preventative counseling. The staff is dedicated to keeping abreast of the latest improvements in technological advancements in the hearing industry and is committed to offering the most current options to their patients.
Contact:
Mr. Clay Green
http://www.gcaudiology.com/
Gulf Coast Audiology
4203 North Main Street
Victoria, TX 77901
(361) 237-1046