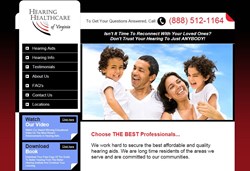 I was referred to Hearing Healthcare by a friend who had gotten good results there and highly recommended them.
Charlottesville, VA (PRWEB) October 22, 2012
Hearing Healthcare of Virginia, the leading provider of hearing aids in the Charlottesville VA area is pleased to announce the launch of its new website at hearvirginia.com and the accompanying Facebook Fan Page and YouTube channel. The website contains a wealth of information for new patients including a comparison of the types of hearing aids, technology overview and price/cost comparison data. In addition to improved content, the redesigned website also makes it much easier to schedule an appointment and contact the hearing instrument specialists with questions. The accompanying Facebook page at http://www.facebook.com/HearingHealthcareVA is a place where patients can ask questions and engage in a dialogue about hearing loss solutions with other Virginia residents. The YouTube channel at http://www.youtube.com/user/hearcarevirginia already contains 72 videos including answers to frequently asked questions and numerous satisfied patient testimonials.
Hearing Healthcare of Virginia has 6 locations across Virginia to serve all of your hearing care needs. The main office is located in Charlottesville VA, with additional locations in Covington VA, Culpepper VA, Fishersville VA, Harrisonburg VA and Lexington VA. Hearing Healthcare of Virginia is owned by Christian Pogreba and his wife Vanessa. Christian began his career in the Hearing Industry in early 2000 as a Regional Manager for American Hearing Aid Associates (AHAA). In 2004 Christian opened the doors to his first practice in Waynesboro. The present-day location of Hearing Healthcare of Virginia in Charlottesville closely followed and opened in 2005. In 2007 the Waynesboro office location was moved to Fishersville. A third location in Lexington opened in January of 2008. In 2009 three more locations he opened in Harrisonburg, Culpeper, and Covington. Christian loves working with people and helping them regain the conversational ability they have lost. Christian's easy going approach, patience, care and listening ability has been able to help several thousand people regain a hearing lifestyle.
The website redesign demonstrates Hearing Healthcare of Virginia's continued efforts to help its patients throughout the process of purchasing a hearing aid from the initial research to the final fitting.The entire staff at Hearing Healthcare of Virginia is looking forward to the impact that the new website will have. They expect that the new website will help patients through the process of purchasing their first hearing aid and that the new Facebook page and YouTube channel will allow them to engage their audience in a more casual setting. To see the new website design, and to learn more about Hearing Healthcare of Virginia, visit http://hearvirginia.com.
Contact:
Christian Pogreba
Hearing Healthcare of Virginia
300 Hickman Road #202
Charlottesville, VA 22911
(434) 202-5997
Hearing Healthcare of Virginia
245 West Main St.
Covington, VA 24426
(888) 693-3881
Hearing Healthcare of Virginia
700 Southridge Parkway, Suite 309
Culpeper, VA 22701
(540) 317-1964
Hearing Healthcare of Virginia
1534 Jefferson Highway
Fishersville, VA 22939
(888) 693-5828
Hearing Healthcare of Virginia
735-D East Market St.
Harrisonburg, VA 22801
(540) 689-0023
Hearing Healthcare of Virginia
30 Crossing Lane, Suite 209
Lexington, VA 22450
(540) 784-4120