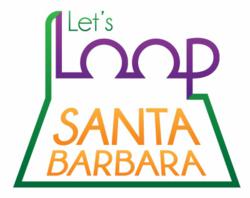 Our common goal is to turn Santa Barbara into one of the first hearing friendly cities in California.
Santa Barbara, CA (PRWEB) June 25, 2013
Hearing aid users attending lectures, performances or movie screenings at the University of California Santa Barbara's Campbell Hall will soon find those events much more enjoyable and stress-free, thanks to a hearing loop system being installed. A hearing loop wirelessly transfers pure, clear sound without background noise directly to someone's hearing device, without the need to use any additional equipment. The hearing loop installation at Campbell Hall launches the public awareness campaign, "Let's Loop Santa Barbara," initiated by the Independent Living Resource Center (ILRC) and the Hearing Loss Association of Santa Barbara.
"Our common goal is to turn Santa Barbara into one of the first hearing friendly cities in California," said Kase Martis, ILRC's Hearing Loop Advocate.
According to a recent article in the New York Times, many public venues on the East Coast and in the Midwest – such as churches, auditoriums and theaters – are beginning to offer hearing loop technology. A generous donation by the Arthur N. Rupe Foundation as well as local hearing loop installer Otojoy allowed UCSB to increase accessibility to the venue for approximately 18,000 hearing impaired Santa Barbara residents.
"From my own experience, I know that this fantastic technology will benefit a lot of people, so we are more than happy to help," said Arthur Rupe, who wears a hearing aid himself.
A number of venues in Santa Barbara and Ojai are already hearing loop equipped, such as the Mary Craig Auditorium at the Santa Barbara Museum of Art, the Ojai Playhouse, as well as the University Club of Santa Barbara.
"UC Santa Barbara's Arts & Lectures is committed to making its performances and events accessible to all who wish to enjoy them," said Celesta M. Billeci, the Miller McCune Executive Director of UCSB Arts & Lectures. "We are very pleased that this enhancement to Campbell Hall will help ensure an enjoyable experience for all patrons."
The focus of the "Let's Loop Santa Barbara" campaign is to educate local residents, hearing professionals, businesses and venues about hearing loop technology, its benefits and its countless applications. Hearing loops cannot only be used in large gathering spaces, but also in transient situations such as doctor's offices, ticket counters, bank teller windows, drive thru windows or any other place where speech comprehension is crucial. Even home loop systems are available to be connected to TVs and stereo systems.
"For many years we have been left out, even though we represent the largest group of people with disabilities in this country," said Claudia Herczog, co-leader of the Hearing Loss Association of Santa Barbara. "You should see the smiles on people's faces since we looped our meeting room. The Hearing Loss Association of America has a plan to loop America – and our chapter is helping lead the way."
"Most of today's hearing aids can be programmed to use hearing loops," Otojoy audiologist Donna Gilmartin said. "The beauty of the system is that it works independent of the hearing aid manufacturer and doesn't require additional bulky equipment."
Dodero Hearing, Hearing Consultants of California and Otojoy are strong advocates for the "Let's Loop Santa Barbara" campaign and have hearing loop systems installed in their offices for demonstration purposes. Additional information and sound demonstrations are available at http://www.hearingloop.org. An educational video about hearing loops can be found here.
The Independent Living Resource Center, Inc. (ILRC) is a community-based, private non-profit organization of, by and for persons with disabilities. ILRC promotes the independent living philosophy and its tenets of full access, equal opportunity and maximum success and self-sufficiency for all people with disabilities. The staff's goal is to eliminate barriers to full participation in the community.
The Hearing Loss Association of Santa Barbara (HLA-SB) brings support and understanding to all people who live with a hearing loss (from mild to profound), as well as their family and friends. HLA-SB is part of the Hearing Loss Association of America (HLAA), the nation's leading organization representing people with hearing loss. Their joint mission is to open the world of communication to people with hearing loss by providing information, education, support and advocacy.