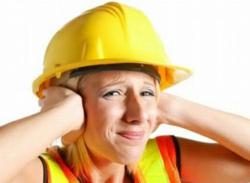 Employees who have developed hearing loss whilst working in a noisy environment without any protection are entitled to make a claim for hearing loss compensation.
Bolton, UK (PRWEB UK) 29 May 2013
Noise-induced hearing loss (NIHL) occurs when someone is continuously exposed to loud noise, whether when working or listening to loud music. Noise exposure is the main cause of permanent hearing damage in the workplace, the World Health Organization says (2). It is also known as Industrial Deafness or Occupational Deafness.
How to prevent NIHL in a noisy work environment
Employers must take action to protect staff hearing under the "Noise At Work Act 1989" regulations. Those working in a noisy environment such as manufacturing, construction, airfields or music venues should make sure that all the measures and protection are in place to reduce such a risk. When the noise exposures reach 80 dB, the employer is liable to take action. Employees who have developed hearing loss whilst working in a noisy environment without any protection are entitled to make a claim for hearing loss compensation.
A man from Middlesex, 75, received £5,000 in hearing loss compensation. He advised that a safe system of work was not implemented as hearing protection was not enforced (3).
Commenting on the case, spokesperson for Asons Solicitors, Suzanne Yates, said that:
"It is alleged that our client worked in an environment that was extremely loud, where suitable and efficient hearing protection was not provided. We were informed that our client's employers failed to provide hearing protection and also failed to ensure that any protective equipment provided was suitable, in good repair, in working order and properly used."
What are the symptoms of Noise-induced hearing loss?
The hearing damages provoked by Noise-induced hearing loss normally increase over time, which is the reason why it is difficult for a person to understand when they started suffering from this condition.
Symptoms to look out for include:
-Inability to follow conversations at normal volumes
-Difficulty with high-pitched sounds such as young child speaking or birds singing
-Having to raise TV or radio volumes
-Experience a ringing or buzzing sound inside the ear, known as tinnitus.
Those who have been experiencing some of these symptoms should not hesitate to report their medical condition to the employer and visit their GP. Also, seeking specialist legal advice is crucial when dealing with an Industrial Deafness diagnosis in order to prove any employer's negligence and make a Hearing Loss Claim.
For further information on pursuing damages for noise induced hearing loss, visit Asons Solicitors at http://www.asons.co.uk, or contact them directly on: 01204 521 133
(1) http://www.actiononhearingloss.org.uk/your-hearing/about-deafness-and-hearing-loss/statistics.aspx
(2) http://www.who.int/quantifying_ehimpacts/global/6noise.pdf
(3) http://www.asons.co.uk/NewsDetails/Hearing-Loss/Asons-Solicitors-settled-for-Clients-Hearing-Loss-Claim/740

About Asons Solicitors:
Asons Solicitors is a Bolton-based law practice that specialises in personal injury and industrial disease claims. Founded by brothers Imran Akram and Kamran Akram, Asons Solicitors has developed to become a young and dynamic law firm that delivers practical solutions to clients in times of difficulty. Their continued focus on their staff has seen them awarded with the Investors in People "Gold Award"; which is reflected in the professional and personable approach they take in working with clients. They strive to grow and to develop, and their supportiveness and attention to detail ensures that their clients use them time and again.
For further information contact:
Email: info (at) asons (dot) co.uk
Website: http://www.asons.co.uk