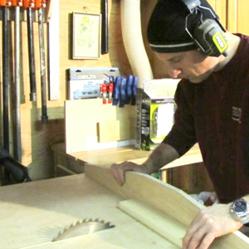 I'm delighted with the settlement that Emma worked so hard to achieve. I was updated regularly and everything was explained clearly so I understood where I was along every step of the way. I have since recommended Emma to some of my past colleagues
Bolton, UK (PRWEB UK) 18 February 2013
After a thorough legal investigation, Asons Solicitors has secured £9,750 in hearing loss compensation for their client Mr Allen Whitworth.
Mr Whitworth, 65, worked as a joiner for Wakefield Council for 12 years where he was exposed to excessive noise levels produced by joinery machinery. His role involved the maintenance and repair of gymnasium equipment as well as the production of boards and rails. This work involved the use of circular saws, planers, spindle moulders, sanders and power drills, and it is also alleged that that Mr Whitworth worked with two large Watkins Machines.
It was believed that the noise produced by this equipment had contributed to Mr Whitworth's hearing loss.
To make matters worse, Mr Whitworth was not provided with sufficient hearing protection during his tenure with Wakefield Council.
To confirm whether or not his hearing loss was in fact industrial deafness, Asons Solicitors arranged for Mr Whitworth to undergo hearing tests. The resulting audiogram revealed that he had in fact suffered 37 decibels (db) of hearing loss over the 1, 2 and 3 KHz ranges, and that he also has tinnitus (ringing in the ears). Of this, 17.7db was found to be noise induced, with the rest due to wear and tear of age.
Commenting on the case, Asons Solicitors' Head of Industrial Disease, Miss Emma Taylor stated that:
"Mr Whitworth had suffered a tough time with his hearing loss. He is often unable to hear alarms or his phone ringing because they operate at frequencies where his hearing loss is greatest. In many respects he finds his inability to hear properly embarrassing, and to add insult to injury, his tinnitus also keeps him awake at night. So much so, that our medical experts have suggested that Mr Whitworth attends tinnitus counselling sessions."
Upon discovering the true extent of Mr Whitworth's occupational deafness, negotiations ensued to claim damages for his injury and for the detrimental impact that this has had on his later life.
"Wakefield Council had no excuse for not providing Mr Whitworth with adequate hearing protection. The Factories Act 1961 and the Health and Safety at Work Act 1974, clearly outlines their responsibilities to make their working conditions safe, and to protect Mr Whitworth's wellbeing. On these grounds, we were able to secure an industrial deafness settlement of £9,750 to contribute to the costs of tinnitus counselling, hearing aids and other supportive devices," adds Miss Taylor.
Commenting on his settlement, and his experience with Asons Solicitors, Mr Whitworth stated that:
"I'm delighted with the settlement that Emma worked so hard to achieve. I was updated regularly, and everything was explained clearly, so I understood where I was along every step of the way. I have since recommended Emma to some of my past colleagues so that she can provide them with the same quality of service that I received. I wouldn't hesitate in recommending Asons Solicitors to anyone."
"Hearing loss compensation can't bring back a victim's hearing, but it can go a long way to funding the aids and support that people need to improve their quality of life; items that many wouldn't be able to afford otherwise. I'm just glad that I was able to help Mr Whitworth to regain some of his own," adds Miss Taylor.
If you'd like to find out more about Asons Solicitors, and how they can help you with a hearing loss claim; you can visit them at http://www.asons.co.uk, or you can contact them directly on 0844 850 1062.
[1] Case Reference Number: 100835

About Asons Solicitors:
Asons Solicitors is a Bolton-based law practice that specialises in personal injury and industrial disease claims. Founded by brothers Imran Akram and Kamran Akram, Asons Solicitors has developed to become a young and dynamic law firm that delivers practical solutions to clients in times of difficulty. Their continued focus on their staff has seen them awarded with the Investors in People "Gold Award"; which is reflected in the professional and personable approach they take in working with clients. They strive to grow and to develop, and their supportiveness and attention to detail ensures that their clients use them time and again.
For further information contact:
Email: info(at)asons(dot)co(dot)uk
Website: http://www.asons.co.uk