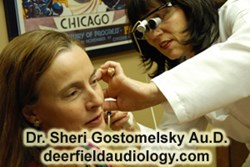 Communicating on a telephone can be very difficult for people with hearing loss.
Deerfield, IL (PRWEB) June 14, 2013
Communicating on a telephone can be very difficult for people with hearing loss. Audiologists such as Dr. Sheri Gostomelsky Au.D. co-owner of Audiology Associates of Deerfield, regularly counsel patients with hearing impairments on how to make telephone listening and communications more effective. To reach a wider audience, Dr. Gostomelsky has released a video on the practice's YouTube channel detailing her top three pieces of advice for those with hearing loss to improve telephone communication. She recommends:
1. Turn your hearing aid to the telecoil setting when you are speaking on the telephone. Many hearing aid users report feedback when they place the handset of the telephone next to their hearing aid. The telecoil can eliminate this feedback because the hearing aid microphone is turned off and the hearing aid only amplifies the signal coming through the telecoil.
2. Use an amplified phone which is available at no cost in the State of Illinois with a signed application from an audiologist or physician. Applications are available on the Illinois Telecommunication Access Corporation's Website (ITAC).
3. Use the speakerphone setting on your home telephone. Speaker phone allows you to use both ears to understand the speaker instead of just one.
This latest video is just one of a growing collection of video tutorials, advice and tips recorded by Dr. Gostomelsky and available to all current and prospective patients on the Audiology Associates of Deerfield website and YouTube channel. Sheri has over 30 years of experience working with hearing-impaired patients and takes pride in helping her patients understand what it takes to be successful as a hearing aid candidate. She has outstanding expertise in testing for hearing loss, hearing aid technology and custom fitting each patient for the Deerfield IL hearing aid that best fits their unique needs and is enjoying sharing some of that expertise in the form of online videos.