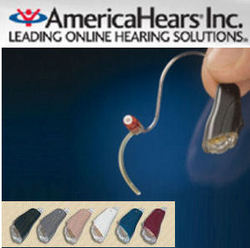 your father's hearing aid.
Bristol, PA (PRWEB) May 13, 2008
America Hears (http://www.AmericaHears.com) announced it will offer its popular Freedom SIE (speaker-in-the-ear) hearing aids in an array of six colors for fashion-conscious consumers demanding up-to-date looks along with high-performance digital hearing assistance. The new hearing aids now are available in off-white, slate-grey, ebony, cobalt-blue and ruby-red in addition to the original flesh-toned version.
"New technology combined with attractive consumer design is rapidly eliminating the stigma previously associated with hearing aids," said Henry S. Smith, CEO of America Hears. "Our new Freedom SIE open-fit hearing aids are so small and light they are nearly invisible. You can wear them all day and forget you have them on."
America Hears is the only manufacturer of premium digital hearing aids to sell directly to consumers while providing professional support from its own audiologists over the internet and phone. Its unique business model integrating manufacturing with direct sales and support enables America Hears to provide the industry's highest quality hearing aids at $995 each, less than half the cost of other premium brands.
Smith said consumers accustomed to colorful, elegantly designed, digital "lifestyle" products such as iPods and slick new cell phones are no longer settling for "your father's hearing aid."
"Baby boomers who grew up along with the consumer electronics industry, especially the millions of audio enthusiasts out there, are much more comfortable wearing hearing aids than earlier generations," Smith said. "In fact, many are so proud to be leading the trend they often want to show off their new hearing aids. America Hears has responded with a sleek new design in a range of flattering colors."
The America Hears Freedom SIE hearing aid features a small digital signal processor that sits snugly behind the ear, connected to a near-invisible micro-tube with a tiny speaker at the end that delivers sound deep into the ear canal. Its open-fit design allows the wearer to discern natural sound along with amplified sound, eliminating the blocked-up feeling and tinny, "unreal" sound quality of outdated hearing aids.
"Anyone who has a flat-screen TV, an iPhone or a personal computer should not only be able to afford hearing aids, but also enjoy the experience of using and wearing them," Smith said. "America Hears is the first to put fashionable, high-quality digital hearing assistance within reach of millions of American consumers."
Contact:
Kelly Malick M.S., FAAA, America Hears
800-492-4515 ext. 500
[email protected]
###