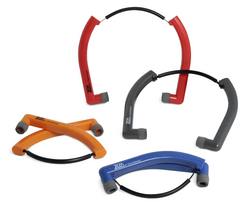 Rochester, NY (PRWEB) July 9, 2008
New ZEMs by SensGard® provide maximum hearing protection combined with comfort, low cost and convenience. ZEMs are ideal for homeowners operating lawnmowers, leaf blowers, chain saws and other noisy equipment, as well as motorcycle and ATV enthusiasts, hunters, target and skeet shooters, woodworkers and other hobbyists.
ZEMs incorporate patented technology that uses the mechanical energy of sound waves instead of electronics to minimize sound before it reaches the ears. The devices offer many benefits over ear muffs, ear plugs and ear bands:

ZEMs provide superior, consistent protection without distortion across all frequencies. The wearer is fully protected from harmful noise but can still discern speech and other important ambient sounds.
Glasses and safety goggles will not compromise the fit or performance of ZEMs.
ZEMs weigh less than 2 ounces and are comfortable to wear, even in hot, humid weather.
ZEMs require no batteries or expensive battery replacement.
ZEMs are simple and easy to adjust to the wearer's head size.
When not in use, ZEMS fold up to store in a pocket or drawer.
ZEMs have been awarded a Field Tested Seal of Approval by the North American Hunting Club and a Garage Tested Seal of Approval by the National Street Machine Club, America's fastest growing club of street machine enthusiasts.
Two ZEMs models are available. Original ZEMs SG26 have a noise reduction rating of 26 decibels (suitable for use at outdoor shooting ranges). They are available in gray, red, blue or orange. ZEMs SG26 come with two pairs of replacement cuffs and carrying case and retail for $24.99.
New ZEMs SG31 have an unprecedented noise reduction rating of 31 decibels for protection in extreme noise environments, including indoor and outdoor shooting ranges. ZEMs SG31 are available in black or loden green. ZEMs SG31 come with two pairs of replacement cuffs and carrying case and retail for $29.95.
Both ZEMs models are available for purchase from from the SensGard website.
For more information about ZEMs visit http://www.sensgard.com. Or contact SensGard at P.O. Box 341, Fairport, NY 14450, (877) 208-0883.
SensGard, LLC manufactures hearing protection utilizing a patented new technology for sound cancellation. SensGard products are recommended for use in lawn care, woodworking, sport shooting, and other high-noise activities that can cause permanent hearing damage.
###