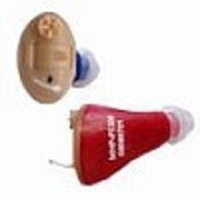 Pleasant Grove, UT (PRWEB) February 9, 2011
According to the National Institute of Deafness, 36 million Americans suffer from hearing loss. Those exposed to loud and high frequency noises are most at risk. In most instances, individuals in the work place do not test their hearing until after damage occurs. Hearing aid technology can help after damage has already occurred. However, professionals recommend hearing protection if working in an environment where one is exposed to loud sounds.
Anyone can suffer from hearing loss. However, if you are in one of the following 5 fields, it is highly recommended that you protect your ears.
Dentistry
Most individuals would not consider a dental office to be a place where noise is a problem. OSHA prescribes that any workers exposed to noise levels in excess of 85 decibels are at risk. The exposure to continuous high frequencies from a drill can degrade one's hearing. Dental professionals should use protective hearing devices.
Construction
The construction industry is a field in which there is continuous exposure to loud noise. Some workers do not wear inexpensive ear plugs because of the need to communicate with coworkers while on the job. Tactical Hearing offers a hearing enhancement device that deflects loud noises while simultaneously improving the ability to hear and communicate at ordinary levels.
Aviation
Individuals in the aviation industry are continuously exposed to sounds that are high in intensity and frequency. According to the Federal Aviation Administration, loud noise can be caused by propellers, transmission systems, hydraulic and electrical actuators, rotors and cockpit advisory/alert systems.
Target Shooting and Hunting
Many individuals do not use hearing protection while shooting their gun. A gun blast can be as loud as 149 decibels. Many recreational shooters forgo ear protection because they think that only shooting 2-3 times a year will not cause any hearing damage. Having hunting ear protection is strongly recommended by all hearing professionals.
Military
One of the most common types of disabilities among war veterans is hearing loss and tinnitus. The military is currently studying the likelihood of soldiers being willing to wear ear protection devices. These devices can protect soldiers from loud explosive noises while not compromising the ability to hear ordinary sound.
Tactical Hearing
The Tactical Hearing Company is an innovator of high performance digital hearing enhancement and protection. The company uses the latest advanced technologies and offers affordable hearing devices that can be used in industries of construction, aviation, military/law enforcement, target shooting, hunting and dentistry.
For more information visit http://www.tacticalhearing.com Email: info(at)tacticalhearing(dot)com or call 801.822.6888.
# # #