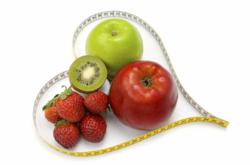 It is possible that with some minor adjustments, you can make everyday meals and snacks tasty and heart healthy.
Islandia, NY (PRWEB) February 16, 2012
February is Heart Awareness Month. According to the Center for Disease Control and Prevention (CDC), cardiovascular disease is the leading cause of death in the United States; one in every three deaths is from heart disease and stroke, equal to 2,200 deaths per day. As prevalent as this type of disease is, there are certain lifestyle changes that can help prevent it such as exercising daily and quitting smoking. Moreover, what we eat also has a significant impact on our health since having a diet high in saturated and trans fats and sodium is a major factor in the development of heart disease.
We've all heard that all if it tastes good, it must be bad for you, but eating right doesn't have to mean giving up your favorite foods. According to Katherine Barfuss, Whitsons Culinary Group Dietitian, "it is possible that with some minor adjustments, you can make everyday meals and snacks tasty and heart healthy." There are some obvious tweaks you could do to ensure you're eating less fat such as using fat-free milk instead of whole in your coffee, but did you know you could replace butter with applesauce in your favorite baking recipe? Just use half the amount and you have cut half the fat! You can also make a couple of small changes in your food preparation. You can skip the extra fat by cooling stews, sauces or soups in the refrigerator after cooking and skimming the fat from the top after it hardens. Also, roasting meats on a rack so the fat can drip away and blotting the meats with a paper towel after cooking will soak up the extra fat.
Without even realizing it, we ingest a large amount of sodium every day. Sodium is ubiquitous in our foods as it is used to preserve foods or add flavor to them. It is present in canned and some frozen vegetables, in smoked meats, cheeses, and in most processed foods. According to the 2010 Dietary Guidelines for Americans, a healthy adult should not exceed 1,500 mg of sodium a day. Too much sodium increases the blood pressure and forces the kidneys to work harder, so keep in mind that these are upper limits, and less is usually best, especially if you're sensitive to the effects of sodium.
To jazz up your meals and keep them heart healthy, use herbs, spices and other flavorings such as zest from citrus fruit and fruit juices instead of sodium packed MSG and salt. Beware of the condiment trap! Even though they are not necessarily salty, some condiments contain large quantities of sodium such as catsup, sauces (BBQ, steak, chili, taco, etc.), salad dressings and mustard. Use them sparingly.
Whitsons, in conjunction with health association and nutrition professionals, has developed a signature wellness program called Smart Choices™ which places an emphasis on tasty and nutritious foods that provide good health choices. The Smart Choices™ meals contain less than 600 calories, with no more than 30% of calories from fat, zero trans fats, less than 66mg of cholesterol, less than 10% of saturated fat and 670mg of sodium or below. This program includes both adaptations of traditional favorites such as Un-Sloppy Joe's, as well as exciting new menu creations such as Crunchy Bistro Lentil Salad.
About Whitsons:
Whitsons Culinary Group provides a wide range of highly customized dining services to public schools, corporations and institutions, with a strong focus on nutritious, high quality menus made from fresh, wholesome ingredients. Whitsons has a long and proud history of excellence and growth since 1979 and currently ranks the 16th largest dining company in the United States (Food Management magazine, September 2011). Whitsons' scope of expertise and services extends to: culinary development, residential and healthcare dining, prepared meals, emergency dining and vending services.
###