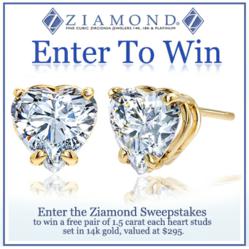 Ziamond's COO, Mr. Scott Cummings stated "We receive tremendous response to our sweepstakes and participants are always looking ahead with excitement to see what fun new piece of high quality cubic zirconia jewelry Ziamond will offer."
Boca Raton, FL (PRWEB) January 17, 2013
Ziamond, known as the finest cubic zirconia jewelry company, announces their newest sweepstakes for the month of January 2013. Ziamon is giving away another free jewelry design from the Ziamond.com website. Ziamond is recognized as a high end, luxury cz jewelry company that features the finest quality Russian formula cubic zirconia jewelry set in 14k, 18k solid gold and Platinum. Ziamond not only has the finest mined diamond simulants as well as man made lab created gemstones such as sapphires, rubies and emeralds.
Valentine's Day is just around the corner and Ziamond is offering a fantastic opportunity to win a free pair of 1.5 carat each heart shaped cubic zirconia stud earrings that are basket set in 14k yellow gold by entering the Ziamond sweepstakes! One lucky winner will win these beautiful 14k yellow gold heart shaped cz stud earrings by entering this event. The Heart Stud Earrings Ziamond is giving away in this sweepstakes have a total cart weight of 3 carats for both studs and include 14k yellow gold standard backs. No purchase will be necessary in order to enter or win. This sweepstakes contest runs through the month of January 2013 and the winner will be selected on February 1st, 2013. A winner will announced via Ziamond's official Twitter and Facebook pages.
Ziamond's COO, Mr. Scott Cummings stated "We have gotten a tremendous response to our monthly sweepstakes and participants are always looking ahead to see what fun new piece of high quality cubic zirconia jewelry Ziamond will offer." Mr. Cummings continued to say "Ziamond studs make a great additional to any ladies' jewelry collection. They are very fashionable and fit within most social and casual events." Ziamond promotions are promoted throughout their social networks as well as on their specialty ecommerce jewelry website, Ziamond.com. Separate entry pages will be available for different audiences.
About Ziamond:
Ziamond is recognized as a leading cubic zirconia jewelry manufacturer, specializing in the highest quality cubic zirconia jewelry exclusively set in 14k, 18k Solid Gold and luxurious Platinum. With Corporate headquarters located in Boca Raton, Florida, Ziamond ships fine cubic zirconia jewelry to customers worldwide. Ziamond is an A+ rated BBB company and enjoys a sterling reputation as a leader in its field.