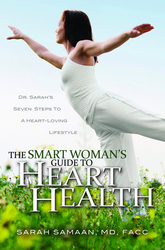 Dallas, TX (Vocus) December 11, 2009
Renowned Plano, TX cardiologist Sarah Samaan, MD, FACC, author of The Smart Woman's Guide to Heart Health , offers heart healthy tips for the holidays! Eat, drink and be merry and still maintain a heart-loving lifestyle.
Holiday Heart Healthy Tips:

Try cranberries! They are packed full of vitamins and antioxidants, and are a heart smart holiday treat as long as the sugar is kept to a minimum. Think about combing with orange juice for a healthier shot of sweetness.
Think outside the (marshmallow) box when it comes to sweet potatoes, too. They are a fabulous source of fiber, and their naturally orange color means they are super rich in anti-oxidants. Roasting sliced sweet potatoes with a little olive oil and spices will bring them to life!
A Mediterranean-type diet high in vegetables, legumes, fruits and nuts, whole grains, fish and seafood, and healthy fats is delicious and filling without guilt!
Enjoy a glass of Red wine!
Keep stress at bay by taking a 20-30 minute walk or have a spin on the exercise bike at least 5 days a week.
Santa knows if you're asleep, and he knows if you're awake. Be good for goodness sake, and get at least 7 hours of sleep each night
Named as one of "America's Top Physicians" by Consumers' Research Council of America, as well as a "Texas Super Doctor" by Texas Monthly magazine, Dr. Samaan is widely recognized as an expert on cardiovascular disease in women. She practices cardiology at Legacy Heart Center in Plano, Texas and at the Baylor Heart Hospital, where she is a co-director of the Women's Cardiovascular Institute
For more information visit: http://www.smartwomanshearthealth.com.
# # #