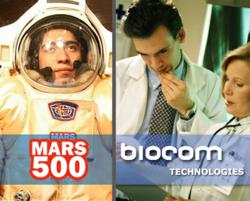 A unique medical instrument for assessment of health conditions and risks of developing disease is coming soon
Seattle, WA (PRWEB) September 30, 2012
Biocom Technologies, a company specializing in heart rate variability science, the Institute of Biomedical Problems (IMBP) of the Russian Academy of Sciences, and Canadian company Autosun Health Technologies are in process of launching a joint business project for the assessment of health conditions and risks of developing disease, based on the unique technology of space medicine.
This decision is the logical culmination of a multi-year cooperation between the parties, which began with the preparation for international scientific project "Mars-500" conducted by IBMP to study the effects of long-lasting spaceflight on the health of crew members and develop new methods of assessment of the dynamics of health changes and risk of getting diseases.
During the project, a series of auxiliary studies were carried out on volunteers living in normal conditions in different regions of the world, including North America, Europe and Russia. All subjects, including the "Mars-500" crew, were tested weekly using special devices to record various physiological parameters. A special method of analysis, jointly developed by scientists of the participating organizations, helped detect the minor changes in the body and quantify the risks of diseases. In addition, this method allows evaluating the disease progress - borderline conditions, early asymptomatic stage or real disease. The method also shows the probability of being at any stage of disease development.
The subjects living in North America took weekly tests assessing dynamics of their health changes at their homes using heart rate variability product Health Reviser developed by Biocom Technologies. This has demonstrated the possibility of using heart rate variability tools for health assessment not only in professional laboratories, but also at home.
During the experiments, it was found that these techniques can detect minor changes in health caused by various adverse factors experienced not only by crew members, but ordinary people living in their natural habitats. It has been shown that seasonal weather changes, stress at work and home, and other factors have significant impact on health, although subjectively people have no problems and do not see signs of disease.
This method also showed that the early interventions may quickly reverse a state of health.
After analyzing the results of the study, the parties concluded that the developed method of assessing health and risk of disease development has enormous potential. It was decided to launch a joint project to develop new products for professional and personal use.
Biocom Technologies is a company specializing in the development of new technologies for health assessment based on heart rate variability analysis and non-pharmacological methods of health improvement.
Health Reviser is one of the most popular health assessment products, providing simple-to-use tools to assess and track general health, assess fitness, track body aging process, monitor and manage stress.
Institute of Biomedical Problems of the Russian Academy of Sciences - government organization engaged in scientific support of life and health of people living in extreme conditions.