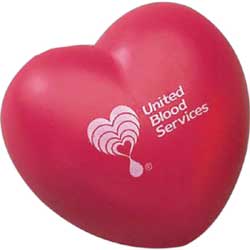 Essex, Ct (PRWEB) January 17, 2012
February is American Heart Month. Heart disease is the number one cause of death in America. American Heart Month was designated to help raise awareness about how lifestyle choices and changes that can help keep the heart healthy and strong. Promotional products are a great way for businesses, schools, hospitals and non-profit organizations to help raise awareness about heart health. 4AllPromos has a large selection of heart shaped promotional products including tote bags, sticky notes, key chains, candy, coasters and more. Help support heart health in the community during the month of February with creative products and promotions.
February 4th is National Wear Red Day. Americans are encourage to wear the color red to work or school to help bring attention to the importance of heart health. A poor diet, lack of exercise, smoking and drinking can call contribute to poor heart health. It is also important to know your family's medical history as heart disease can affect generations. Support the American Heart Month or the American Heart Association with red t-shirts, lollipops, stickers, tote bags or pedometers. These kinds of items are great for giveaways or promotions during the month of February. 4AllPromos can imprint a logo, name, website or heart healthy tips on any product.
Valentine's Day also helps to bring awareness to heart health in February. Heart shapes items fill the shelves at every store throughout the month. Try making some of these heart-shaped items educational with custom imprinted messages. Heart-shaped chocolates, candies, mints and other goodies are perfect to send to the ones you love.
Hopefully in February people are still continuing to work on their New Year's resolutions. For many these resolutions include eating healthy and getting into better shape. Heart-shaped pedometers are great reminder on why it is important to keep moving even during the cold winter months. Track footsteps during the work day, at home and on the go all day long. Belly fat can be an indicator of other more serious health issues including diabetes and high blood pressure. Use a heart-shaped tape measure to keep track of inches lost during a winter weight loss challenge. Gyms, hospitals and doctor's offices can use these products to help keep clients and patients on track.
For more tips on how to maintain a healthy heart and how to help raise awareness about American Heart Month visit the heart.org For more information on heart-shaped promotional products for American Heart Month and Valentine's Day visit http://www.4allpromos.com or call toll-free at 1-866-732-3386. 4AllPromos is one of the largest online markets of promotional products offering more than 15,000 products including tote bags, pens, sticky notes, drawstring backpacks, stadium cushions, candy and more.
###