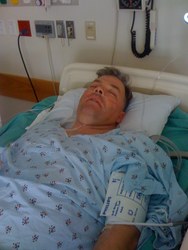 Chicago, IL (PRWEB) October 21, 2009
Patrick J. Fox is without question a very lucky person and recipient of a chance to continue living after flat lining 6 times on March 31, 2008 when he suffered a massive sudden heart attack (The Widow Maker).
Patrick J. Fox, best known for authoring "The Widow Maker Heart Attack at age 48". As a heart attack survivor of flat lining 6 times, he utilizes his unique heart attack resume to provide a dynamic and introspective website & blog that provides opportunity for all heart attack survivors.
Patrick's firsthand experience of suffering a heart attack and fighting the emotional and physical recovery has not been provided in past books by any other authors that survived a heart attack. Learning first-hand experiences from another heart attack survivor is something that other heart attack survivors without exception value greatly.
The Official Heart Attack Survivor Web Site and Blog were created for one primary reason. "Heart attack survivors are a proud group of people that are very learned about their experience and cherish the experiences of other survivors." "Heart attack survivors are part of a group that has a pretty elite rite of passage and membership. None of us ever realized we applied for membership".
The website widowmakerheartattack.com was created for the purpose of providing a central location where survivors can convey their own personal experience to share with other heart attack survivors. Patrick Fox declares in his book, "That no two heart attacks are created equal and that no two heart attacks present themselves in an identical manner."
"The Official Heart Attack Survivor Web Site and Blog includes a "Living List" area and other features where heart attack survivors can find inspiration and guidance for emotional and physical recovery. Fox provides non medical, heartfelt, firsthand opinions that survivors often search out as "soft information" vs "hard" medical advice and direction that can be found abundantly on the Internet.
There have been famous people that have had their lives shortened due to heart disease. This list includes such names as; Walt Disney, Ken Caminiti, Don Drysdale, Darryl Kile, Billy Mays, Michael Jackson, and Tim Russert. Some famous people that were given a second chance to better understand heart disease include; President Bill Clinton, Danny Ainge, Larry King, David Letterman, and Dick Cheney.
Midwest Book Review
A heart attack is a life-changing event. "The Widow-Maker Heart Attack at Age 48: Written by a Heart Attack Survivor for a Heart Attack Survivor and Their Loved Ones" is a combination memoir and advice manual, reflecting on Patrick Fox's own survival of his heart attack and the year after which proved quite tumultuous for him. An emotional experience with a major focus on family and being near death, "The Widow-Maker Heart Attack" is a very much recommended read for anyone concerned about their own heart's health.
Other media includes that has featured book:
AOLHealth http://www.aolhealth.com/condition-center/heart-disease/surviving-a-heart-attack
VoiceAmerica http://www.modavox.com/voiceAmerica/vguest.aspx?gid=4464
The Doctors http://www.thedoctorstv.com/main/show_synopsis/317?section=synopsis
Book available at: bn.com , borders.com, amazon.com or search Google for worldwide distribution
Heart attack survivors from around the world are invited to utilize the following blogs. Additional blog topics will be added as needs and wants of heart attack survivors' change.
http://www.widowmakerheartattack.com/?cat=111 Eliminating Congenital Cardiovascular Defects Blog
http://www.widowmakerheartattack.com/?cat=112 Heart Attack Medical Information Blog
http://www.widowmakerheartattack.com/?cat=1 Official Heart Attack Survivor Blog
###