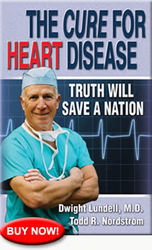 Modern medicine, with all its benefits, is focused on the treatment of disease and not the cure
Scottsdale, AZ (Vocus) November 11, 2008
Dr. Dwight Lundell retired in 2004 after spending 25 years performing open heart surgery on over 5,000 patients.
During his last few years in private practice, Dr. Lundell had an amazing insight. What he discovered will change the face of heart disease in this country. His extensive research and 5,000 heart operations led him to the underlying cause of heart disease and heart attacks. "Chronic Inflammation" is the problem, not cholesterol!
"Modern medicine, with all its benefits, is focused on the treatment of disease and not the cure," says Lundell.
In his controversial new book The Cure for Heart Disease (http://www.thecureforheartdisease.net) Dr. Lundell gives proof of his discovery. He also shows how individuals can minimize risk of heart problems and live healthier, more enjoyable lives.
But the battle has just begun. Although the latest research agrees with him, Dr. Lundell's discovery goes against powerful forces in the medical business. The pharmaceutical industry with its influence and power will do whatever it takes to silence or discredit its critics.
From the drug companies' point of view, billions of dollars are at stake; from Dr. Lundell's point of view, millions of American lives are at stake. Consumers need to know the truth. His book The Cure for Heart Disease (http://www.thecureforheartdisease.net) gives readers scientific facts about the real cause of heart disease and what they can do to reduce the risk of disease and even how to work with their Dr. to take control of their own health.
Dr. Lundell is also the founder of The Healthy Humans Foundation, (http://www.hhfound.org) a non-profit focused on the open communication and education of health and wellness research and advocacy.
Dr. Lundell currently resides in Scottsdale Arizona and is on a mission to save lives. He is available for speeches, lectures and workshops to educate the general public. Companies, organizations or the media wanting the truth about heart disease and what can be done to avoid it can contact Dan Charles at 888-890-2873, option 3.
For additional information on Dr. Dwight Lundell or his book go to http://www.thecureforheartdisease.net or contact:
Dan Charles
The Healthy Humans Foundation
888-890-2873
media@hshealthplan.com
###