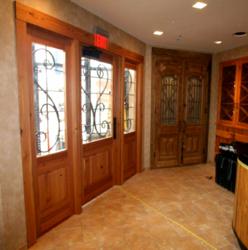 We enjoy the challenge of turning the bones of an old building into handcrafted pieces for commercial spaces and homes
Farmington, NY (PRWEB) May 31, 2013
A prominent supermarket that opened in May in Rochester, New York features timbers, doors, and trim crafted of reclaimed Heart Pine by New Energy Works Timberframers fine woodworking group, NEWwoodworks. The antique pine, also known as Southern Yellow Pine, was salvaged by Pioneer Millworks during deconstruction of the Union Underwear Inc. cotton mill and factory in Alabama.
Beginning with raw industrial salvaged timbers, Pioneer Millworks milled board stock which NEWwoodworks crafted into custom pieces for the supermarket. "Heart Pine in its higher grades is a quality wood with great durability and density, and a bit of antique resin that requires patience and skill. It achieves a wonderful look that adds a unique flavor to any project," said Rob D'Alessandro, General Manager of NEWwoodworks. "We enjoy the challenge of turning the bones of an old building into handcrafted pieces for commercial spaces and homes."
Heart Pine doors in the restaurant celebrate crisp grain patterns and rich color tones complimented by wrought iron accents. Timbers with original patina bring warmth to the ceiling and reclaimed, natural edge walnut planks join with more Heart Pine in custom benches in the reception area.
"Reclaimed Heart Pine is said to be the species our country was built on. Factories and mills, such as Union Underwear, were largely constructed using these pine timbers," explains Jennifer Young, Manager of Pioneer Millworks. "It is a highly desired species due to its dense grain patterns, deep patina, character, and of course, history."
The Union Underwear Inc. mill was built in 1921 as the Fayette Cotton Mill. It was erected adjacent to the Brown Lumber Company. Logs were transported by rail to the lumber mill, sawn into hefty timbers (many as large as 9″ x 15″ x 26′), then used in the construction of the cotton mill next door. In 2003 the mill was shut down sitting dormant until it was carefully deconstructed in 2013.
"Old wood isn't just about sustainability and beauty. It's about carrying a piece of history forward. For example, when our team was at the factory they met a gentleman who had worked in the mill for nearly 40 years. He shared stories and old photographs with us from a time when the mill was running at full capacity," continued Young. "His story and the deconstruction of the mill was so interesting we had to share it all in a blog post."
Fulfilling the fine woodworking needs for the supermarket utilized all of Pioneer Millworks inventory of the Heart Pine from the Union Underwear mill, but the company continues to offer Heart Pine from several other historic sources. Numerous Yellow Pine timbers from the Union Underwear mill are still available.
Pioneer Millworks is the leader in the reclaimed wood industry. To date, they've rescued nearly 22 million board feet of old wood from rot and landfills, giving it new life as flooring, millwork, cabinetry, and more. All manufactured in the USA from New York and Oregon — in a way that's healthy for customers, employees, and the environment. Pioneer Millworks is FSC certified and Green America approved. All of their products are LEED point eligible.