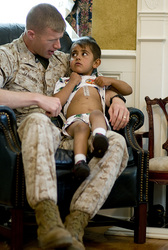 Ammar has a large hole in his heart and a severe obstruction between his heart and lungs, giving him the classic 'blue baby' look around his lips and extremities
Charleston, SC (Vocus) May 5, 2008
With the help of the U.S. Marines, Hamad Muhammed brought his five-year-old son Ammar all the way from Haditha, Iraq, for a lifesaving heart surgery at the Medical University of South Carolina (MUSC) Children's Hospital in Charleston. This story will unfold tonight on ABC World News with Charlie Gibson.
As a lieutenant in the Iraqi Police force, Hamad risks his life everyday alongside U.S. Marines clearing land mines and protecting the borders from terrorists. Yet, there was little he could do to save his little boy from a life-threatening heart condition called Tetralogy of Fallot, a condition which is a complex of four heart abnormalities that starves the blood of oxygen, turning the boy's skin blue.
One of the most common congenital heart defects, the syndrome is treated surgically in U.S. children before their first birthday. It's a routine operation in the U.S. but not in Iraq. Without surgery, Ammar would die within just a few years.
When the U.S. Marines learned Hamad's little boy had a life-threatening heart problem, they immediately took action. Major Kevin Jarrard, a 1995 Citadel graduate, reached out to the East Cooper Breakfast Rotary Club, which secured a Gift of Life grant from Rotary International to pay for Ammar's surgery. Jarrard began raising money with other Marines and in his own hometown to pay for the airfare to get Hamad and Ammar to Charleston where the surgery would take place.
Hamad, who has five other children back in Iraq, said he and his wife first noticed symptoms in Ammar when he was about a year old.
"Ammar has a large hole in his heart and a severe obstruction between his heart and lungs, giving him the classic 'blue baby' look around his lips and extremities," said Dr. Andy Atz, director of the Pediatric Cardiac Intensive Care Unit at MUSC Children's Hospital. "Bluish skin, shortness of breath and fainting are typical in children with this syndrome and without surgery, they rarely live long into their teenage years."
On April 10, Ammar underwent surgery to remove baby teeth with cavities which reduced the risk of infection after the heart surgery. With the help of a translator, pediatric cardiothoracic surgeon Dr. Scott Bradley explained to Hamad how they would fix his son's heart in surgery. A few days later, Dr. Bradley and his surgical team performed the operation which would give Ammar a new chance at life.
Only hours after the surgery, the color in Ammar's lips and feet began to return to normal. Three days after surgery, Ammar was playing with toys in his room and eating chips before being discharged from the hospital. For the first time in his short life, he was able to walk the 10 minutes from his hospital room to the parking lot without being carried.
Ammar and his father flew back to Iraq last week after he was given full medical clearance. Check out this link for more photos and videos on http://www.muschealth.com/iraq .
###