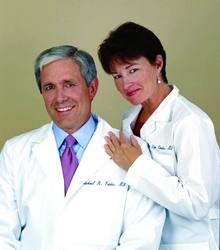 Portland, ME (PRWEB) December 3, 2007
More than 60 million Americans suffer from heartburn at least once a month (National Heartburn Alliance). The discomfort can limit daily activities, productivity and even sleep. Eades Nutritionals announces the availability of The Protexid® Solution, a clinically-tested, all-natural supplement and sensible eating plan that provides heartburn relief.
According to Dr. Mary Dan Eades, co-founder of Eades Nutritionals, "Whether it's discomfort after a holiday meal or difficulty eating certain foods, many people experience the burning sensation associated with heartburn." Dr. Mary Dan Eades offers partygoers the following advice:
Holiday Party Survival Guide
1. Don't go hungry to a party! Eat a filling meal of meat and vegetables to keep hunger at bay.
2. Don't stand near the food table. Delay going as long as possible then head for the meat, cheese, and fresh veggie trays.
3. Drink one glass of water for every alcoholic beverage you enjoy.
4. Avoid sweet mixed drinks filled with sugar. Stick to reasonable amounts of dry wines, light beers, or distilled spirits.
5. Delay eating a sweet treat until the end of the party and limit yourself to 1 or 2 small offerings.
How The Protexid Solution Works
Unlike products that attempt to restrict or block acid production, Protexid doesn't neutralize normal stomach acids that are necessary for digestive and immune system health. Instead, it helps to contain stomach acid where it belongs.
Protexid combines seven essential nutrients shown to exert beneficial effects on the digestive system including:

Melatonin which protects and promotes the integrity of the lining of the stomach and esophagus and promotes a restful, natural sleep.
Tryptophan, a building block of proteins, which helps promote sleep and works in combination with vitamins B6 and B12 to promote comfort.
Vitamin B12 that is required for normal functioning and can be absorbed from foods of animal origin (meat, fish, poultry, eggs and dairy).
The Protexid Solution Basics
Developed and distributed by Eades Nutritionals, Protexid is available without a prescription. Introductory pricing is $79.95 for a 30-day supply. It combines a clinically-tested, patented supplement with a rich eating plan to provide heartburn relief. Protexid, powered by Tripiradol, contains a proprietary blend of seven natural ingredients that are either produced by the body naturally, or are required by the body for normal digestive health. Protexid is also available in a non-drowsy formula (Protexid ND) http://www.protexid.com.
About Eades Nutritionals
Eades Nutritionals is headquartered in Portland, ME and offers people a healthier way to live through research, education and nutritional supplements. Co-founders and nutrition experts, Dr. Michael R. Eades and Dr. Mary Dan Eades travel extensively for lecture, radio and TV appearances. Drs. Eades, are the authors of the NY Times best seller, Protein Power and many other books on diet, nutrition, exercise and health. http://www.eadesnutritionals.com.
###