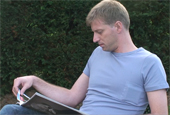 Dr. Allen's therapeutic devices provide pain relief and improvement to chronic conditions of heart, prostate and spine naturally.
London, UK (PRWEB) November 07, 2012
Male age driven health threats can now be resolved with the Thermobalancing therapy naturally by treating common chronic problems in the spine, prostate and coronary arteries with a range of Dr. Allen's Devices supporting well-being and longevity; to the contrary, long-term intakes of medications and surgeries, which may provide some symptomatic relief, ultimately cause serious side effects in the long-run, Fine Treatment reveals.
A new article in Men's Health News by M. Haller describes research coming from three universities, reviews the data from the National Health Interview Survey and tracks the changes in respondents' health over a span of 23 years. Survey results reveal that men transitioning into their 30s hold a greater risk for developing herniated discs, which begin to deteriorate and grow thinner with age. In their 40s, men start experiencing 'slow-down symptoms'— meaning gradual decreases in energy, sexual drive, brain functioning, and the ability to sleep; and after 50, high blood pressure and coronary heart disease are the leading cause of death for men in the United States.
Dr. Allen's Devices address each of the above mentioned health conditions. They are designed to provide the natural Thermobalancing therapy: problems with intervertebral discs can be eased with Dr. Allen's Devices for the treatment of lower and upper spine; lessened sex drive is often connected to prostate problems, such as prostate growth or inflammation, and Dr. Allen's Device for Prostate Care is here to help; and Dr. Allen's Heart Treatment device assists with angina relief and post heart attack recovery.
The Thermobalancing therapy tackles different conditions at the common capillary level, so its successful application is broad. Contrary to medications, Dr. Allen's therapeutic device helps to reduce the size of the prostate naturally. Dr. Allen's Device for Prostate Care works 24 hours a day and creates an ideal environment for blood to pass through capillaries in the affected prostate tissue. The improved blood flow cleanses the prostate and over time and allows the body to repair itself through its own restorative mechanisms. Please watch a short informative video: http://www.youtube.com/watch?v=V5xidswhxJM.
Positive results can be also seen while treating coronary heart disease. For instance, Dr. Mohamed S. Awad, Tanta University Hospitals, Egypt states: the Thermobalancing Therapy by Dr. Allen increases the blood flow inside the heart tissue and in the coronary arteries, thus improving the condition of heart muscle. Dr. Allen's device is considered effective at every phase of heart diseases and can relieve chest pain and other symptoms associated with myocardial infarction or angina pectoris.
"The protection of overall health and well-being from inevitable side effects of surgeries and medications is an important matter," says Dr. Simon Allen. "Dr. Allen's therapeutic devices provide pain relief and improvement to chronic conditions of heart, prostate and spine naturally."
For details, please visit Fine Treatment at
http://www.finetreatment.co.uk/prostatetreatmentbph/prostatitistreatment.html.
About Dr. Simon Allen and Fine Treatment:
Dr. Simon Allen is a highly experienced medical professional. His specialty is in the internal medicine and cardio-vascular field. He has treated a wide range of chronic diseases, including patients after a heart attack, with kidneys problems, including kidney stones disease, prostate and spine conditions, as well as metabolic disorders. Fine Treatment exclusively offers Dr Allen's devices for chronic prostatitis and BPH treatment, coronary heart disease, dissolving kidney stones, as well as lower back pain relief and sciatica treatment.