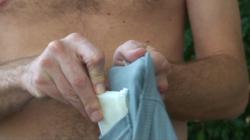 The Thermobalancing Therapy is not only known as a natural heart treatment, but the one that cannot harm and has a proven efficacy.
London, UK (PRWEB) February 14, 2012
Fine Treatment recommends new Dr. Allen's Device for Heart Treatment for patients with cardiovascular disease. The new Thermobalancing Therapy enabled by this device is at the core of this natural heart treatment. This therapy increases the blood flow deeply inside the coronary arteries' walls and in the heart tissue strengthening the heart muscle. People can use this device on a daily basis without taking the time off for the treatment.
According to the American Heart Association, "Heart and blood vessel disease — cardiovascular disease, also called heart disease — includes numerous problems, many of which are related to a process called atherosclerosis. Atherosclerosis is a condition that develops when a substance called plaque builds up in the walls of the arteries. This buildup narrows the arteries, making it harder for blood to flow through. If a blood clot forms, it can stop the blood flow. This can cause a heart attack or stroke."
This is why the improvement of the blood flow in the heart is crucial for any of cardiovascular disease treatment options.
Dr Allen's Device for Heart Treatment works all hours a day while it is applied to the body improving the condition of the heart muscle. It is worn as a comfortable vest with the natural thermo-element covering the left side of the chest. The device relieves angina and other symptoms naturally, reducing the need for additional medication and even heart surgery. This natural therapy is very effective at every stage of cardiovascular disease: as for preventing the development of a heart attack and so as for recovery after the heart attack. It is important to note that this natural treatment is an alternative to painkillers and drugs that may have different side effects, and can well complement mainstream treatments. Read more at http://www.finetreatment.co.uk/coronaryheartdisease/hearttreatment.html.
"People can now reduce the use of medications which are widely promoted but may actually harm them", says Dr. Allen, and adds: "The Thermobalancing Therapy is not only known as a natural heart treatment, but the one that cannot harm and has a proven efficacy."
Oxford Innovation & Growth has created a case study video that highlights cardiovascular disease and its treatment with Dr. Allen's therapeutic device for the heart: http://www.youtube.com/watch?v=zwI84Hfo7GA.
About Dr. Simon Allen and Fine Treatment:
Dr. Simon Allen is a highly experienced medical professional. His specialty is in the internal medicine and cardio-vascular field, and he has treated patients after a heart attack with coronary heart disease; as well as with kidneys problems, including kidney stones disease, prostate and spine conditions. Fine Treatment exclusively offers Dr Allen's devices for chronic prostatitis (CPPS) and BPH treatment, coronary heart disease, for dissolving kidney stones, and for back pain and Sciatica relief.
###