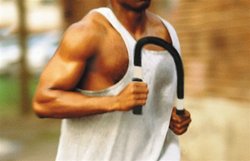 Austin, Texas (PRWEB) March 12, 2009
Health and wellness know no economic seasons. HeartFlex manufactures a handheld exerciser that combines muscle strengthening with a cardio workout to save valuable time. After a successful trial marketing period this United States corporation is ramping up to supply its growing global demand.
"The HeartFlex was originally intended to transform walking into a full body workout by supplying the crucial upper body component missing from fitness walking routines," said John Corbin, inventor of the HeartFlex.
It was manufactured to be very lightweight so it would not adversely affect shoulder rotator cuffs by translating "heel shock" - as can occur when using common hand weights or walking poles. Its "stay put until moved" resistance assembly makes it easy to carry by wrapping it around the back of the neck - freeing the hands.
These attributes have translated into multiple applications benefiting anyone that wants a stronger upper body and stimulated cardio circulation. Plus, its totally passive resistance structure provides a gentle and thorough exercise that has proven effective in improving overall conditioning and mental outlook.
Because it produces only passive resistance it improves muscle power and speed much like swimming - but without the water.
Designed to be fun and easy to use HeartFlex produces fitness results, with reduced injuries, via the new axiom of the modern trainer - "train, don't strain."
"Relying upon the application of repetitions rather than strenuous exertion means that its workout can be personalized to benefit everyone from elite athlete to beginning exerciser," said Corbin.
Folks who can't, or don't, walk still reap wellness benefits of improved upper body strength and cardio stimulation by using HeartFlex while sitting or lying down - great for recovering patients.
For more information on the HeartFlex or to see the workout machine improving physical fitness in action, visit http://www.heartflex.com/.
###