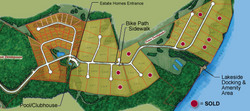 When we came down to visit, we were surprised to see how few options there were for those looking to build a new home in Morgantown
Morgantown, WV (PRWEB) July 13, 2009
About a year ago when Heartland Homes, Pittsburgh's #1 custom home builder, was considering where to expand their business - Morgantown quickly became the best choice. With its low unemployment rate, steadily growing economy, and solid academic foundation the area made a great fit. "When we came down to visit, we were surprised to see how few options there were for those looking to build a new home in Morgantown," said Scott Blodgett the company's chief operating officer. "We feel like we offer something that wasn't here before - extremely high quality custom homes at affordable prices. Plus, we have the experience and credibility of building hundreds of homes each year in the Pittsburgh area."
Heartland's first community, The Summit at Cheat Lake off of Stewartstown Road, starts from the low $270's including home site. It features lake front and lake view home sites, a private pool and clubhouse, sidewalks and bike trails with lake access, and even a private amenity area on the lake. You can choose from one of over 20 different home designs - or even design your own. Every home is custom built on site by hand, and includes name brand products like Andersen wood windows, Kohler faucets, and much more.
Now that the majority of development preparation has been completed, Heartland is preparing for what it is calling its "Grand Release Event" on Saturday, July 18th. This means that all home sites in the community are now available for sale on a first come, first served basis. There will also be refreshments, games, loads of prizes (gas cards, gift cards, etc), and guided tours available for the entire family. There will also be face painters, balloon animals, a bounce house, and more - but the main event is likely to be the $100,000 Mountaineer Football Challenge.
Everyone who attends the free event will be able to register for a chance to throw a football through a target twenty-five yards away to win the cash prize. Even if they don't win the cash, the contestant will win a pair of season tickets to home Mountaineer football games. The event will run from 10am - 3pm, but the big throw will take place at 1pm. Be sure to arrive early so your registration is complete before the name is drawn at 12:45! Each person attending the event will also receive free gifts while supplies last.
Heartland Homes was recently named a "Top 100" builder in the country by Professional Builder Magazine, and they have a fantastic story to tell. "I've been in the home building world a long time," said Alan Gillespie - the Founder of Heartland Homes. He worked for large national home builders as a senior manager before leaving to start Heartland. "I really wanted to start out on my own, and do some things differently. I had narrowed down the name of the new company to three or four choices, and had my family vote on which name they liked best. That's how Heartland Homes started," says Alan.
Over the next twenty-five years, Heartland became Pittsburgh's top custom home builder by focusing on the quality of their homes and the customer experience. "We really never focused on growth... it just happened - and we have our customer's word of mouth to thank for it," says Alan. "We're all excited to be building in Morgantown and can't wait to enjoy the same great reputation there as well.
About Heartland Homes
Heartland Homes is Pittsburgh's #1 custom home builder, and is still family owned and local after 25 years. Heartland's goal is to create custom homes of the highest quality, at an affordable price, & with excellent customer service in the Pittsburgh area. For more information, visit http://www.LoveHeartland.com.
###