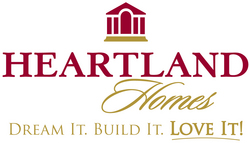 "It's a much more complete picture than just Energy Star" - Alan Gillespie
Pittsburgh, PA (PRWEB) June 30, 2010
Heartland Homes, Pittsburgh's #1 custom home builder, puts a lot of time and effort into making sure they build some of the most energy efficient homes in the area, but that isn't where it ends. "Energy efficiency and saving money on utilities is only one piece of the green puzzle," says Heartland founder Alan Gillespie. "Higher indoor air quality, increased comfort, and environmental impact are just as important." That, says Alan, is why Heartland developed the Heartland Healthy Home as a series of included features put into every home they build. "It's a much more complete picture than just Energy Star," he says. "It's really resonated with customers and is a big reason why we are having our best year ever."
"We take great care in making sure that the materials we use in our homes are of the highest quality, but also that the manufacturing process used to create and deliver those materials is as green as possible," says Liam Brennan director of purchasing and costing. "Our customers ultimately care most about their own home, but they also appreciate knowing that we and our partners are taking the extra steps to have a positive impact on the environment."

Heartland's commitment to energy efficiency and the environment has not gone unnoticed by suppliers that share these concerns. "We give a lot of credit to Heartland Homes for what it has done, and is doing, in terms of 'green' practices in the homes it builds," said Tim Rethlake, Vice President of Sales for Heat & Glo Fireplaces. "It is challenging. Every lot where a new home is built is like a small factory where, on average, 22,000 components go into the house."
Heat & Glo Fireplaces, Rethlake says, adheres to a "lean" policy designed to make the least possible impact on the environment in all respects, from the raw materials used to manufacturing processes to product delivery. For its "lean" philosophy and manufacturing performance, Heat & Glo Fireplaces parent company was awarded the Shingo Prize, called the "Nobel Prize of manufacturing" by a leading business publication.
The final ingredient that Heartland feels is so important is that they are a local company working with local businesses-and supporting the local economy. "Our main office is located right here in the South Hills," says Scott Blodgett, Chief Operating Officer at Heartland. "We buy our faucets from Kohler, but they are supplied, delivered, and installed by a local small business owner-and at the end of the day any profit we make is reinvested right here in Southwestern Pennsylvania. It isn't sent back to some other fr away place."
If being a green company means being responsible, doing the right thing, and giving back to your community-then Heartland Homes is certainly a green company to be proud of.
###