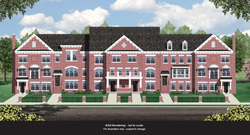 Sewickley is the perfect place for us to be building homes, and we can't wait to get started. - Marty Gillespie, President of Heartland Homes
Sewickley, PA (PRWEB) March 29, 2011
In its first new construction project in Sewickley Borough, Heartland Homes, Inc. plans to design & build 19 luxury brownstones. Ground breaking for The Village at Sweetwater is expected to take place later this spring.
Featuring all-brick homes in three buildings, the Village at Sweetwater is situated at the intersection of Beaver and Peebles streets and is within walking distance to Sewickley's bustling business district.
Heartland Homes is developing new designs for these buildings in which the end units will have elevator options. Custom floor plans ranging in size from 1,580 to over 2,500 square feet will be released at an upcoming VIP event where pricing will also be announced. Over 60 people have already expressed interest, and they are anxious to learn more because the Village location is one of a kind. Many of the people currently on the VIP list want to either stay in the area, or find a new home and return to Sewickley.
The Lawrence, Pa.-based custom home builder is partnering with Beaver Hall Associates, which is developing the land. According to Frank J. Zappala with Beaver Hall Associates, the builder and developer have been working together for three years to get the project to this point.
In October, Beaver Hall Associates received final approval from the Borough of Sewickley to move forward on the Village at Sweetwater. "We are excited about the project and hope to break ground sometime in April," Zappala said.
Heartland Homes President Marty Gillespie concurs. "The opportunity to work with Beaver Hall Associates on this joint venture is exciting and a new area for Heartland Homes to expand its customer base," he said. "Sewickley is the perfect place for us to be building homes, and we can't wait to get started."
To learn more about the Village at Sweetwater or to be included on the VIP list for priority information, contact Sara Williams, new home specialist at Heartland Homes, at 412-992-7417 or via e-mail at SAWilliams (at) LoveHeartland (dot) com.
Heartland Homes, Pittsburgh's #1 custom home builder, was founded in 1984 to create custom homes of the highest quality at an affordable price with excellent customer service that exceeds expectations. The company, still family owned and operated, builds communities in the Greater Pittsburgh area (Allegheny, Washington and Butler counties) and Cheat Lake in Morgantown, WV. Contact Heartland Homes at 412-221-7990 or visit HeartlandCustomHomes.com.
###