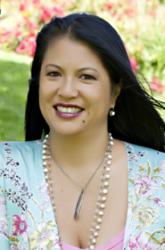 My secrets for success is to surround myself with women who are inspiring, motivational, and successful. - Darrelle Woo
Irvine, CA (PRWEB) January 15, 2013
The Heart Link Network® welcomes its newest networking Ambassador for California. Darrelle Woo is a Holistic Health Practitioner practicing since 1996. She also loves the "freedom, friendships and fun" that comes with being involved with The Heart Link Women's Network. From her first HLN meeting, she knew that this was where she wanted and needed to be. Darrelle is perfect as an ambassador because she loves meeting and connecting with other professional women, making friends and helping women grow, as they spread their wings to live their dreams. The mission of The Heart Link Network fits perfectly with the mission in her heart.
Darrelle has supported her fellow chapter leaders and helped them achieve their goals over the years. It is vital that each Heart Link Network Ambassador communicate the 'heart-felt' message of the Heart Link Women's Network to leaders, attendees and future members.
Heart Link Network Ambassadors are naturally giving women, and the founder Dawn Billings recognizes that each Ambassador, team member and chapter leader are an essential piece to the overall 'Heart shaped' puzzle. Dawn is an author, trainer, inventor and entrepreneur who was recognized by Oprah magazine and The White House Project in 2008, as one of the nation's 80 emerging women leaders.
The Heart Link Women's Network® is intimate, effective, and invites all women. Each woman attending showcases her business or dreams for 3 minutes, and receives loving, undivided attention. Each networking event offers a light lunch or dinner, and an opportunity to socialize with like-minded professionals.
"The Heart Link Network® has a unique networking model built on the female endocrine system that helps women connect, bond, and grow personally and professionally. Women are stronger when they are connected. Women give one another great encouragement, support and hope. I am so excited after every Heart Link meeting I attend because I watch with excitement as new relationships grow that I know will help women succeed," says Laura Wells, president of The Heart Link Network®.
The Heart Link Network® is committed to the success of women small business professionals, and offers more networking locations than any other women's networking organization. No membership is required. The meeting fee is a nominal $20.00 when you pre-pay your registration, and includes a light meal as well as a company-exclusive spot at the meeting. Women in business may go to http://www.theheartlinknetwork.com to find a local Heart Link Network Chapter in their area to register for the next gathering. To see a full list of the over 220 women networking locations, learn the generous benefits and perks of sponsoring a local chapter, or to submit an application to lead a chapter of The Heart Link Network®, visit http://www.theheartlinknetwork.com