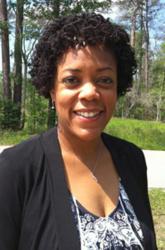 I am very excited to be leading a HLN chapter. Building relationships is an awesome bridge toward having lasting friendships.
~Beatrice Stair
Magnolia, Texas (PRWEB) December 19, 2012
The Heart Link Network®, Best Women's Networking, welcomes a new business networking location in Magnolia, TX. The chapter leader of this location, Beatrice, is an Independent Product Consultant with doTERRA essential oils. She also owns a lovely boutique in Magnolia, Texas called Love Me Bougie and is passionate about serving her community by leading networking events for professional women. She is dedicated to aiding women in expanding their circle of influence, connecting with like-minded women, and creating meaningful relationships.
"I am very excited to be leading a HLN chapter. Building relationships is an awesome bridge toward having lasting friendships. It is my desire to bring us together not only for business opportunities, but for friendships built on trust. You will have a chance to speak and be heard, listen and reflect inspire and motivate yourself and others; all the while having fun. Building a business takes time, but you will not be alone on your journey," -Beatrice Stair
The Heart Link Women's Network®, winner of the 2011 and 2012 "Best Women's Networking" award, is intimate and welcoming for all women in Magnolia, TX. The Heart Link Network® was created to showcase small business women and their businesses for a full 3 minutes versus other networking groups who only allow their attendees to share their business for 30 seconds to one minute. The Heart Link Women's Network® was founded by author Dawn L. Billings, architect of the Primary Colors Personality Test and the patent-pending parent tool, CAPABLES Parent Tool. Dawn has dedicated her life to finding ways to benefit the lives of women and children. Dawn was selected as one of 15 Women of Achievement by the YWCA in Cobb County, GA., and one of the nation's 80 emerging women leaders by Oprah magazine and The White House Project.
"As a personality expert, who created the Primary Colors Personality Test, I realize that we all have different personalities and that means we have a tendency to see the world through colored lenses. At The Heart Link Network, women get to take advantage of other women's talent, experience, education, insight and expertise, as they share their ideas of how to succeed in business. I am so excited after every Heart Link meeting I attend because I watch with excitement as new relationships are developed and a rainbow of possibilities emerge from the connections that come to life at The Heart Link Networking meetings," – Dawn Billings, Founder of The Heart Link Network
The meeting fee is a nominal $25.00 and includes a light meal as well as a company-exclusive spot at the meeting. Women in Magnolia, TX may go to http://www.77354.theheartlinknetwork.com to learn more about the Best Women's Network and to register to network with like-minded professional women in the community. To see a full list of women networking locations, discover the many perks and benefits of sponsoring a Heart Link Network chapter, or to submit an application to lead a chapter of The Heart Link Network®, visit http://www.theheartlinknetwork.com