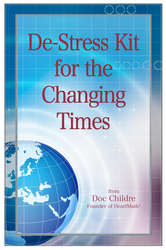 While the unemployed are certainly feeling stress, even those who are employed can live in fear that they'll be next. Companies will see stress play out through increased absenteeism, employee relations issues, increased health care costs, reduced performance and overwhelm due to employees taking on larger workloads.
Boulder Creek, CA (PRWEB) April 13, 2009
Today's stress is different. It's not your ordinary stress from rush hour traffic or a long line at Starbucks. Mental health experts say that current levels of stress and anxiety are worse than after 9/11. HeartMath stress experts say that we're in a kind of "perfect storm". The recession has generated significant financial anguish for many people. This, combined with the daily stress people were already dealing with prior to the economic chaos, has created a cumulative effect. Researchers call this allostatic load, meaning an accumulation of stress that eventually can lead to long-term health problems. HeartMath experts say we need to remain attentive to the levels of stress and anxiety people are experiencing because the storm is not abating. The HeartMath organization is offering recommendations that can help people minimize stress and monitor how much they're being affected by it.
The Warning Signs:
HeartMath has dedicated nearly two decades to researching stress and developing solutions validated by science that can transform stress. Their experts say that the swell of uncertainty is hitting people hard. "Stress is accumulated by carrying around unsettled or negative feelings without resolving them, which can actually prevent us from finding the creative solutions that we need to better deal with stress," says Bruce Cryer, CEO and President of HeartMath LLC.
Psychologist Deborah Rozman, Ph.D., President and CEO of Quantum Intech Inc, manufacturer of emWave Stress Relief technologies, says, "Many people believe that emotions just happen to them. We haven't been taught that we can shift out of stressful emotions. The statistics reflect how the accumulation of stress is impacting people - many people are on the brink of unraveling."

ComPsych reported the demand for therapists surged 40% from June to December -- driven largely by financial fears.
A National Sleep Foundation poll reported one-third of respondents are losing sleep over the economy and their financial situations.
Wolters Kluwer Health reported a notable increase of people using prescription medications for stress.
The National Domestic Violence Hotline reported an increase in calls during this recession.
An American Psychological Association survey reported half of Americans are feeling more stressed now than a year ago, and one-third rate their stress levels as "extreme".
Another growing concern is workplace stress. Some Employee Assistant Programs have reported incoming calls up 60% following the financial collapse in the fall of 2008.
"More than ever before, workplace stress is a threat to the health of workers and in turn to organizations." says Cryer. "While the unemployed are certainly feeling stress, even those who are employed can live in fear that they'll be next. Companies will see stress play out through increased absenteeism, employee relations issues, increased health care costs, reduced performance and overwhelm due to employees taking on larger workloads."
Hope:
While these times are especially challenging for many, it's not all gloomy. There's hope in knowing that there are proven methods for managing the unrelenting stress of these changing times.
Using an assessment tool called the Personal and Organizational Quality Assessment, HeartMath surveyed over 4,000 working adults before and after having learned HeartMath's science-based techniques and their emWave technologies. Two months after receiving HeartMath training, 64% reported fewer feelings of anxiety compared to how they felt before receiving the training. For those who were most commonly suffering from fatigue, the post survey showed 54% fewer reporting fatigue on a regular or constant basis. While those who reported frequent or constant feelings of depression prior to the training, 69% fewer reporting feelings of depression two months later.
Cryer says, "HeartMath provides the scientific evidence and roadmap with directions on how to get to a more productive, less stressed state. People who apply these simple practices are changing their lives and their families' lives in dramatic and positive ways. They're the validation for the next person and the next that this methodology really works."
Weathering the Storm:
What can people do if they're feeling overwhelmed by stress?

HeartMath's emWave Personal Stress Reliever, is an award-winning technology which allows you to see in real-time how your emotions are affecting you. A brief tutorial, included in the package, teaches the user Quick Coherence, a scientifically validated stress reducing technique. The device won the Last Gadget Standing People's Choice Award at the 2009 International Consumer Electronics Show.
HeartMath is offering a free resource called the De-Stress Kit for the Changing Times. It can be downloaded as a pdf or a mp3 file at http://www.destresskit.com . Available in a number of languages, HeartMath representatives say that more languages will be added soon. The De-Stress Kit is being distributed worldwide. Organizations such as Dow Chemical, Boeing, Jet Blue and many hospitals and healthcare providers such as American College of Healthcare Executives and the Association of California Healthcare Districts are distributing the De-Stress Kit to their employees and clients/customers.
An important factor in transforming stress is knowing where it's stemming from and how much it's impacting you. To help, HeartMath is offering the Stress & Well-Being Survey™, the most comprehensive and accurate assessment tool that's available free over the Internet.
The HeartMath system of stress solutions have been characterized as being disarmingly simple. The scientific underpinnings of their techniques and technologies are rigorous, yet the applications are uncomplicated and practical. These unique qualities have earned praise from leading corporations and healthcare systems such as Hewlett Packard, Cisco, BP, Mayo Clinic, BlueCross BlueShield and Duke Medical Center.
About HeartMath®:
HeartMath LLC is a cutting-edge performance company providing a range of unique services, products, and technology to improve health and well-being, while dramatically reducing stress and boosting performance and productivity. HeartMath's research has demonstrated a critical link between emotions, heart function, and cognitive performance. Many of their studies have been published in peer-reviewed journals such as American Journal of Cardiology, Stress Medicine, and Preventive Cardiology.
Media contact:
Gabriella "Gaby" Boehmer
(831) 338-8710
gboehmer (at) heartmath (dot) com
###