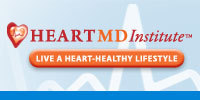 Knowledge empowers. Awareness is curative. Trust me - you do not want to get sick in America today. Learn as much as you can to take good care of yourself."
Tampa, Florida (PRWEB) February 10, 2010
Heart MD Institute, P.A. announces the launch of its new integrative medicine website, heartmdinstitute.com. Founded by cardiologist, author, and educator, Dr. Stephen T. Sinatra, M.D., F.A.C.C., F.A.C.N., C.N.S., C.B.T., heartmdinstitute.com is a free informational resource available to the public.
Through videos and articles at heartmdinstitute.com, Dr. Sinatra presents exciting information about a wide variety of topics spanning general heart-healthy lifestyle practices and health concerns specific to various body systems, as well as the latest news and breakthroughs in medicine. With a special focus on metabolic cardiology, Dr. Sinatra also examines topics like inflammation and the overuse of prescription drugs, which underlie his pervading message: "prevention is easier than cure."
To facilitate its mission of bringing integrative medicine to mainstream health care, Heart MD Institute also features articles written by contributing editors with medicinal philosophies similar to Dr. Sinatra's. Mark Hyman, M.D. is the first contributing editor to be featured on the website. Heart MD Institute also hosts an interactive forum through which site visitors can discuss various health topics with each other.
Through Heart MD Institute, Dr. Sinatra ultimately hopes to inspire the inner healer within everyone. Dr. Sinatra says, "In this day and age of emotional and environmental toxicity and electro-pollution, every individual needs to take more responsibility for his or her own health. I've seen that the pursuit of optimum health has really become a hobby for many of my contemporaries, my physician friends, and even me. Knowledge empowers… Awareness is curative. Trust me - you do not want to get sick in America today. Learn as much as you can to take good care of yourself."
For more information on Heart MD Institute, contact Marchann Sinatra, Editor-in-Chief, HeartMDInstitute.com 257 East Center Street, Manchester, CT 06040, (800) 228-1507
# # #