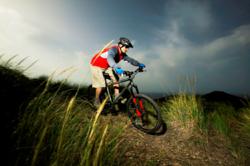 iPhone has intense GPS mapping so if you add heart rate, calories and some other metrics, through apps, it becomes the perfect exercise device ..... Plus you can take phone calls.
(PRWEB) April 26, 2011
Any cyclist equipped with a Fisica sensor case mounted to their handlebars can turn their iPhone into a high-powered GPS bike computer, complete with mapping and boundless statistics. Your iPhone can also serve as a heart rate monitor for gym workouts or running.
"The iPhone and Smartphone fitness craze has just started" says Rusty Squire, President of national online fitness retailer the Heart Rate Watch Company. "Of course, we have tested many of these devices for months now carefully identifying and sorting the leaders from the pretenders."
HOW IT WORKS
What a Fisica sensor does is plug in to the charging outlet on the bottom of your iPhone acting as an ANT+ signal converter for data transmitted from other devices, which also work on the ANT+ standard. What it means is that heart rate chest straps, power meters, foot pods and other devices can send athletic performance information right to your phone.
The iPhone converts this raw data by making use of applications, or apps, that present information, maps and more for cycling, running or general exercise.
"With the cost of an upscale GPS bike computer topping $600 and a GPS watch around $300, it just makes sense that people convert devices like iPhone that have the capability", says Squire. However, for really serious athletes the watch and bike computer are still probably the best solution. "I can't see a world-class marathoner, or cyclist, using these solutions because of various issues related to being minimalistic, but for 95% of us this works just fine", states Squire.
All you need to get started is a Fisica sensor, an ANT+ chest strap and an app – total cost about $138. This would constitute an iPhone Running Bundle. If you are in to cycling then you need the Fisica sensor case to protect the iPhone from accidental drops and weather, which increases the cost to $199 for a complete iPhone bike pack set up. Compare this to $299 for a Polar FT80 heart rate monitor, or $649 for a Garmin Edge 800 GPS bike computer and you can quickly see the math. Ponying up an extra $161 to $450 is not worth it to most consumers.
These devices have filled a big gap in the marketplace for more casual users and exercise enthusiasts that want quality data but do not want to invest in a series of consumer electronic devices to get it.
The other big advantage is for people with busy schedules that cannot afford to be out of touch. With the Fisica sensor you can take a phone call, or text, mid-workout and get right back to it, without losing your workout data.
"We had customers test several different iPhone devices and the Fisica sensor was by far the favorite, which is why we selected it", said Squire. He cautions that consumers need to research these products carefully because Heart Rate Watch Company's testing uncovered a number of inferior products.
APPS, APPS AND MORE APPS
Application, or app, development for fitness programs for the iPhone continues at break-neck speed. There are some proven apps out there for fitness like 321Run, Cyctastic, EZ-HRM and dozens, if not hundreds, of other apps. Apps are so cheap, $1.99 to $10, that it almost feels like cheating because you can literally change the firmware for your iPhone, making it a totally different type of exercise device, depending upon the app you select.
CONCLUSIONS
If you own an iPhone, are time constrained, and already carry your iPhone with you everywhere – for instance, to the gym or on a bike ride – then the Fisica sensor could very well fit your needs. If you are a really serious runner, cyclist or triathlon competitor then there are other GPS watch and bike computer devices that will fit your needs better.
###