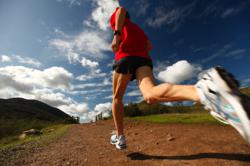 With Garmin Forerunner 210 you won't need a PHD in GPS navigation, getting started is as simple as pushing two buttons.
(Vocus/PRWEB) April 12, 2011
Garmin International Inc., a unit of Garmin Ltd., announced two exciting new GPS watches in late 2010 at the Chicago and New York City marathons. They are called the Garmin Forerunner 410 and the Forerunner 210. In just seven weeks, both GPS watches became the hottest selling heart rate monitor products of the entire year at U.S. online retailer the Heart Rate Watch Company.
"Both GPS watches are aimed out the outdoor fitness markets for runners, cyclists and multi-sport athletes", explains Heart Rate Watch Company President Rusty Squire, "but they struck a real chord with the consumer based upon functionality and, for the 210, its ease of use".
Garmin Forerunner 410 Evaluation
While both the 410 and 210 are good for running, it's the Garmin Forerunner 410 that really delivers cycling performance by displaying speed in miles per hour, as opposed to minutes per mile, the way runners like it. In fact, if you are a cyclist this watch works better than 95% of the bike computers on the market today, and it serves double duty as a fashionable daily watch.
The Forerunner 410 also can deliver the complete array of cycling metrics including speed, distance, cadence, heart rate, elevations and more, all in real-time. Improvements from the prior Forerunner 405 device include moisture-resistant touch bezel navigation, the addition of advanced heart rate based calorie computation, quick-release band for multi-sport athletes and the addition of a premium soft chest strap.
"Members of the Rockford-Clif Bar-Heart Rate Watch cycling team have been testing the new chest straps out this winter with their new Garmin Edge 800 bike computers" explains team manager Jeff Wyatt. He's quick to add that, "All of the team rider's love the improved strap comfort".
In testing, the Garmin 410 delivered 7 to 8 hours of battery life in GPS mode, meaning this watch will not last for a full Ironman, or an ultra-marathon. The Garmin Forerunner 310XT, with its 15 hours of battery life, is better suited to extreme endurance athletes however, for 10k's, marathons or century rides the Forerunner 410 should work just fine.
The only criticism of Forerunner 410 would be the molded extensions protruding out of the casing, which houses the rechargeable lithium-ion batteries. Small, and large, wrists will find it more comfortable to install the quick release strap to create a perfect fit, regardless of wrist size.
The Garmin Connect software is outstanding training software because of the level of mapping detail provided. After your workout is complete your Forerunner 410 provides elevations and distances combined with heart rate details. "One customer sent us a map from a run they completed in San Diego", explains Squire, "and we could see when they crossed the street to the opposing sidewalk, which is simply amazing". Squire continued, "In fact, we had people go alpine ski and hike with the watch and it mapped everywhere they went".
The Heart Rate Watch Company offers buyers unique resource tools that really help shorten the learning curve. Garmin training videos, Garmin Web Updater software and account creation with Garmin Connect are all very important first steps to enjoying your Garmin 410.
Garmin Forerunner 210 – Just Push Play
For those who crave simplicity and just want a watch that gives them pacing, heart rate, distance, calories, and then detailed maps after the fact, the Garmin Forerunner 210 was this year's GPS fitness innovation of the year.
The biggest obstacle to adoption of GPS fitness technology has been a well-founded fear of complexity. This obstacle has now been overcome and you don't need a PHD in GPS watch navigation to run this watch, in fact, quite the opposite.
Two buttons to push is the "mantra" for Forerunner 210. Just push a button at 8 o'clock until a satellite icon pops up on the screen. Then push a button at 2 o'clock to simultaneously launch pace, heart rate, distance and calories data.
When the workout is done, just push stop and then connect your Garmin Forerunner 210 directly to your PC, or laptop, to transfer your data to Garmin Connect training software. Get detailed maps and use the play icon to see what your heart rate is at specific point in the course, like the top of a hill, and quickly see how you recovered afterward.
In the final analysis, this year's crop of new GPS watches gives outdoor fitness enthusiasts reason to celebrate because they offer increased functionality, they are easier to use than ever before, and they provide serious data to help you improve.
###