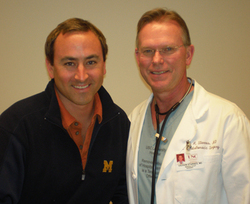 This is all about patients helping patients. It feels great to be part of something so empowering
Los Angeles, Calif. (PRWEB) May 19, 2009
Following the successful heart valve operations of Robin Williams and Barbara Bush, the online community at http://www.Heart-Valve-Surgery.com has launched a unique, online database to help future patients and their caregivers locate heart valve surgeons.
"I never expected this type of response," noted Adam Pick, website founder and author of The Patient's Guide To Heart Valve Surgery. "Shortly after launch, over 350 patients, from 20 countries, contributed their heart surgeon profiles and their feedback to the database."
The Heart Valve Surgeon Database was developed following a patient discussion about the challenges and expense of finding reputable, cardiothoracic surgeons. When the idea of creating a free surgeon database emerged, the patient community immediately realized the potential value of this global tool.
"Thanks to the unity of the heart valve surgery community, this database is unlike anything I have seen before," notes Pick, "As a former patient, I remember how difficult it was to find a trusted surgeon. Now, that process is streamlined. Plus, the database is free and available 24 hours a day."
Patients requiring heart valve replacement and/or heart valve repair surgery can search the online database by surgeon name, by location, by problematic heart valve and by cardiac procedure type. In addition to surgeon contact information, the database also provides patient feedback about their surgical experience.
"Adam's database offers patients a unique and valuable forum to exchange information about heart valve surgeons and their surgical experiences," notes Dr. Eric Roselli, M.D., a cardiothoracic surgeon at The Cleveland Clinic.
During the past month, several public figures have required heart valve surgery including actor and comedian, Robin Williams (aortic valve replacement, mitral valve repair), former First Lady of the United States, Barbara Bush (aortic valve replacement) and professional baseball star, Aaron Boone (aortic valve repair).
The number of heart valve surgeries is expected to surge as 76 million Americans, in the Baby Boom generation, are confronted with valvular diseases including aortic stenosis and mitral valve prolapse.
"I think our heart valve surgery database will greatly enhance the way future patients find their surgeons," Pick noted. "This is all about patients helping patients. It feels great to be part of something so empowering," Pick concluded.
About Heart-Valve-Surgery.com and Adam Pick:
Adam Pick is a double heart valve surgery patient and author of The Patient's Guide to Heart Valve Surgery. Adam also founded Heart-Valve-Surgery.com to help patients and their caregivers better understand the challenges and opportunities of heart valve surgery from the patient perspective. This unique website provides over 1,825 pages of complimentary information (videos, patient stories, recovery tips, clinical research) to support patients before, during and after heart valve surgery. Mr. Pick's work is often referenced by leading surgeons at The Cleveland Clinic, University of Southern California Medical Center and Mount Sinai Hospital.
Adam Pick Contact Information:
Adam Pick
310.622.8739
Press / Media Relations Contact Information:
Almanzora Communications
Monica Cohen
949.903.1889
###