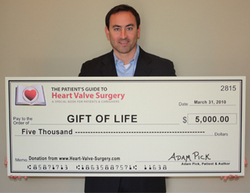 I can finally make monetary donations to the Gift of Life.
Los Angeles, California (PRWEB) March 31, 2010
When Adam Pick reflects on his open-heart surgery, he describes it one word… transformational.
To understand the magnitude of that transformation, one must consider the global impact of Pick's patient advocacy efforts following his surgery.
"Adam's story is extraordinary," notes Dr. A. Marc Gillinov, heart surgeon at The Cleveland Clinic. "With his book and website, Adam filled an important gap for heart surgery patients. In addition to trusted information, Adam provides compassion, reassurance and connections among patients. This is a huge contribution to the welfare of patients everywhere."
For Pick, a 38-year old technology consultant, his cardiac surgery (aortic valve and pulmonary valve replacements) was riddled with unexpected challenges including cardiac depression, Vicodin addiction and chest pain.
"I have to admit, this project is somewhat of a fluke," Pick notes. "I wrote the book for my own catharsis. As for the blog, it was an experiment to see if other patients were experiencing similar problems."
Fluke or not, Pick's book, The Patient's Guide To Heart Valve Surgery, and website have evolved into a massive channel for patient education and communication.
In 2010, Pick estimates that over 1.5 million people will visit Adam's Heart Valve Surgery Blog (http://www.HeartValveBlog.com) and use new features including the Heart Valve Surgeon Database, a surgeon directory (http://www.HeartValveSurgeons.com), and Heart Valve Journals, the world's first social network designed exclusively for heart valve surgery patients (http://www.HeartValveJournals.com).
Now, Pick is focusing on an altruistic objective - helping children with heart defects.
"Thanks to our growing community and our sponsors," Pick said, "I can finally make monetary donations to the Gift of Life."
Founded in 1975, Gift of Life is a rotary-based, charitable organization that addresses the medical needs of children who suffer from congenital heart defects. Earlier today, Pick's company, Heart Valve Interactive Corp., donated $5,000 to the Gift of Life.
"In all my years with Gift of Life, I have never come across a donor like Adam," notes Jim Frame, past Rotary International District Governor and Chair of Gift of Life, Northeast Ohio. "Adam's passion for helping others is relentless."
About Adam Pick and Heart-Valve-Surgery.com:
Adam Pick is a former patient and author of The Patient's Guide to Heart Valve Surgery. In 2006, Adam founded http://www.Heart-Valve-Surgery.com to help patients and caregivers better understand the challenges and the opportunities of heart valve surgery from the patient perspective. This unique website provides over 4,000 pages of complimentary information (videos, patient success stories, recovery tips, clinical research, patient journals and a surgeon directory) to support patients - with diseases including aortic stenosis and mitral regurgitation - needing heart valve replacement and heart repair surgery of the aortic valve, the mitral valve, the pulmonary valve and the tricuspid valve.
Contact:
Adam Pick
Telephone: +1.310.622.8739
http://www.heart-valve-surgery.com
###