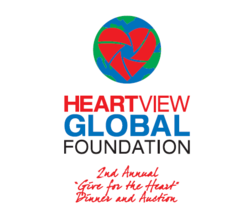 The Foundation has generously established a fund
at Cedars-Sinai that allows testing of selected patients who need the test but cannot afford it.
Los Angeles, California (PRWEB) February 09, 2013
Pioneering cardiologist, Asher Kimchi, MD, Clinical Chief of the Division of Cardiology and Medical Director of the Preventive and Consultative Heart Center of Excellence at the Cedars-Sinai Heart Institute in Los Angeles, and Diane Brinson, an insurance entrepreneur who founded a brokerage to serve high net worth individuals and businesses, have been named as honorees of the second annual HeartView Global Foundation Gala to be held Feb. 16 at the Four Seasons Hotel in Westlake Village.
Kimchi, clinical professor of medicine, will receive the Foundation's award for Excellence in Early Detection and Prevention of Cardiovascular Disease. A native of Tel Aviv, Israel, Kimchi is an internationally recognized clinical cardiologist, former flight surgeon in the Israeli Air Force and the founder and chairman of the International Academy of Cardiology and the World Congress on Heart Disease. Author of numerous books and original manuscripts, Kimchi has been honored with the Passion of the Heart Award from the American Heart Association Los Angeles chapter, and was recently elected as a Fellow of the International Academy of Cardiovascular Sciences, an honor given to only 250 physicians and scientists worldwide.
Dianne Brinson, who will receive the organization's top philanthropic award, founded Momentous Insurance Brokerage in 2008. Brinson guided its growth to 140 employees and 2012 revenues of $27 million, making it the fourth-largest woman-owned business in the San Fernando Valley. Today, Momentous employees are encouraged to contribute a portion of their paychecks to charity, and the company provides a dollar-for-dollar match. Mrs. Brinson will receive the HeartView Global community honor for Excellence in Leadership and Dedication to Early Detection and Prevention of Cardiovascular Disease.
"Dr. Kimchi and Diane Brinson epitomize what our mission is all about: Expert medical care coupled with compassionate and considerate support," said Jonathan Schwartz, founder and president of HeartView Global Foundation. "Dr. Kimchi's knowledge of cardiac medicine, along with his genuine, caring personality explain why his patients are so dedicated to him. And Diane Brinson's generosity is helping to ensure that patients will get the care they need, regardless of cost."
Comedian Greg Fitzsimmons, who hosts a daily program on Sirius satellite radio, will emcee the gala on Saturday, Feb. 16 at the Four Seasons Hotel in Westlake Village. New country-pop artist Joel Crouse will open the entertainment portion of the evening, culminating with singer-songwriter-musician Richard Marx, whose hits include "Endless Summer Nights," "Right Here Waiting" and "Don't Mean Nothing" is slated to perform.
HeartView Global Foundation is a non-profit organization created for the purpose of identifying patients with asymptomatic coronary artery disease for whom preventive measures can be taken to avoid heart attacks, strokes and sudden cardiac death. In addition to supporting research led by Daniel Berman, MD, at Cedars-Sinai in heart attack prevention, the Foundation funds are used to allow patients who need testing to get a coronary CT angiogram, the most accurate test for determining the risk of heart attack. While proven in a large, consistent body of evidence and covered in many states, this highly effective, noninvasive method for evaluation of these patients is not covered by most medical insurance in California. For many at-risk patients, the out-of-pocket payment for this test may be out of reach. The Foundation has generously established a fund at Cedars-Sinai that allows testing of selected patients who need the test but cannot afford it.
Schwartz is a partner in GSO Business Management, a Sherman Oaks-based financial practice that serves the entertainment industry, high net worth individuals and companies. He founded HeartView after his childhood friend died at age 42 from a sudden heart attack. The loss motivated Schwartz, who has a family history of heart disease, to see a doctor and undergo a coronary CT scan, which revealed a life-threatening blockage in a major artery into his heart.
"My friend's passing and a coronary CT scan saved my life, and now I want to help improve and possibly save the lives of thousands of people," Schwartz said.
For more information, or to make a donation, please visit http://www.heartviewglobalfoundation.org.
Contact: Jonathan Schwartz
(818) 462-5678
jschwartz(at)gsogroup.com