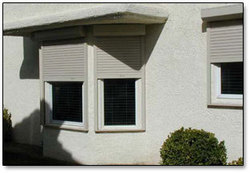 Our customers tell us that Roll-A-Shields change the temperature of a room or a whole house 'like magic'
Tempe, AZ (PRWEB) April 15, 2009
Roll-A-Shield, the leading family-owned rolling shutter manufacturer in Arizona, provides home and business owners with a "new" way to save on energy.
Controlling the costs associated with heating and cooling your home can be a difficult task. Glass windows, sliding doors or French doors are the largest source of heat gain or heat loss in any home. Covering your windows, sliding doors and French doors with a rolling shutter can dramatically reduce energy costs in your home. In a sunny, hot area, it is important to remember: Keep the sun off the glass!
"Our customers tell us that Roll-A-Shields change the temperature of a room or a whole house 'like magic'," said Corrie Wengren, Co-Owner of Roll-A-Shield. "The energy savings can be substantial! Independent engineering tests have proven that Roll-A-Shield rolling shutters can reduce energy usage by as much as 50% with the shutters in the closed position all day. Many of our customers report real-life savings of 25-30%."
Rolling shutters are a multi-faceted product offering many benefits to home and business owners including sun control, energy savings, privacy and noise reduction - all in one product. Roll-A-Shield has manufactured custom rolling shutters continuously for 30 years.
For more information about Roll-A-Shield rolling shutters, security shutters and window coverings, visit Roll-A-Shield rolling shutters.
About Roll-A-Shield:
Roll-A-Shield has been providing window security for 30 years, manufacturing each Roll-A-Shield in our original Phoenix location and now in our bigger Tempe plant. Since 1979, we have invested in research, product development and manufacturing equipment. Our shutters are among the highest quality and longest lasting rolling shutters on the market today! Visit our newly designed website for more information: rollashield.com.
###