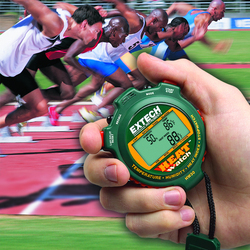 Every effort should be made to continuously educate coaches concerning the proper procedures and precautions when practicing or playing in the heat.
Waltham, MA (Vocus) July 19, 2010
Parents, one of the biggest threats to high school football players practicing drills this summer is not a burly linebacker, or the hard landings on artificial turf. Instead, high school athletes in a range of sports must be prepared for a potentially lethal combination of heat and humidity. By factoring those two readings together, meteorologists calculate a "heat index" which is what the temperature really feels like to humans. This is even more important than a temperature reading alone because, as humidity goes up, the body's ability to carry away heat through sweating and evaporation is dramatically reduced, causing the body's core temperature to rise to harmful and potentially deadly levels. With an Extech HeatWatch heat index alarm, a coach is immediately notified when heat indices go from uncomfortable to dangerous.
In a February 2009 article by Dan Peterson, sports columnist for LiveScience, Peterson stressed that there should be no reason for heat stroke to be claiming the lives of our young athletes. Peterson cites Frederick O. Mueller, who is a professor of exercise and sports science at the University of North Carolina and the author of the definitive Annual Survey of Football Injury Research. Dr. Mueller states: "There is no excuse for any number of heat stroke deaths since they are all preventable with the proper precautions." Dr. Mueller's report adds, "Every effort should be made to continuously educate coaches concerning the proper procedures and precautions when practicing or playing in the heat."
The 2009 report states the alarming facts: "Since 1995, there have been 39 football players die from heat stroke (29 high school, 7 college, 2 professional, and one sandlot)."
The threat of heat-related illness is so great that, in June 2009, the National Athletic Trainers' Association's (NATA) released guidelines for "Preseason Heat-Acclimatization" for high school student athletes to gradually increase pre-season practice during hazy, hot and humid summer weather with a 14-day incremental schedule to reduce heat-related athletic injuries due to poor air quality. (For complete details, visit http://www.nata.org)
To help implement Dr. Mueller's imperative for "proper procedures and precautions," coaches are using a simple $40 device that sounds an alarm when a dangerous heat index is reached. Looking like an ordinary stopwatch, the HeatWatch™ HW30 from Extech Instruments out of Waltham, Massachusetts, is recommended by the National Health & Wellness Club for offering an objective measurement and audible alert to signal when the heat index becomes potentially harmful.
Extech spokesperson, André Rebelo commented on why such a tool is vital, "There are coaches from many different professional backgrounds out there. Each coach's criteria for what is 'too hot' is going to vary. What if you end up with a drill sergeant coach?" Rebelo adds, "Using the HeatWatch™ takes the subjectivity and judgment call out of the decision. It truly becomes a no-brainer. If the heat index reaches a preset level, BEEP!, you'll know." "We are all familiar with alarms for other, more obvious dangers like smoke, fire and carbon monoxide. Here's a more subtle threat that is equally dangerous but often goes undetected."
"Extech designed the Heat Index alarm into an affordable stopwatch so that it fits in every budget and doesn't require toting around extra equipment to monitor heat index. If Dr. Mueller is right and every heat stroke death is preventable, I would be using every precaution possible—with the Extech HeatWatch™ on the front lines of that effort."
How the HeatWatch™ is Used:
As high schools, parents and individual coaches evaluate policies related to heat hazards during athletic practice, the Extech HeatWatch™ (model HW30) provides added insights when critical decisions to cease practicing need to be made. The HeatWatch™ is a full-function digital stopwatch with an exclusive, patent-pending Heat Index alarm that factors temperature and humidity together to alert high school athletes and coaches when poor air quality can put them at risk for heat cramps or heat stroke.
Heat Index is a well-accepted standard measurement to indicate how humidity can affect how hot weather really feels. The HeatWatch™'s Heat Index alarm is user-programmable so that coaches and trainers can use it to implement policies with standardized temperatures at which athletic activity should be stopped for health reasons.
The HeatWatch™ is a Must-Have for Coaches and Trainers:
Recommended by the National Health & Wellness Club, the exclusive Extech HeatWatch™ continues to receive high praise in health and wellness product tests. Customers from a variety of athletic backgrounds comment about the HW30, referring to the prevention of heat stroke and other medical problems. In addition to high school student athletes, the HeatWatch™ can be a lifesaver by alerting the runners, cyclists, and any team sport players. One customer commented, "Every coach and trainer should have one—many deaths can be prevented." The HeatWatch™ is also suitable for outdoor workers such as landscapers, arborists, farmers, construction workers, flag persons, and others.
###