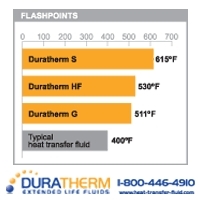 We see companies struggling with compliance and until now they were frustrated.
Lewiston, NY (PRWEB) April 21, 2010
Industrial users of heat transfer fluids are under increasing pressure by insurance companies, fire marshals and other industry regulators to operate at temperatures lower than the fluid's flashpoint. Duratherm Extended Life Fluids has developed three new fluids that make it easier than ever to comply with these with demands.
These new regulations have crippled many industries, because systems used to produce paint, rubber, chemical, refining, asphalt, and pharmaceuticals typically have flashpoints at or lower than 400°F. Duratherm's new line of heat transfer fluids have flashpoints 500°F and as high as 615°F, allowing companies to keep production moving while complying with these tough new rules.
"Heat transfer fluids are a necessity in so many industries and flashpoint pressures have been at issue lately," said Michael Bates, Technology Director of Duratherm Extended Life Fluids.
"We see companies struggling with compliance and until now they were frustrated because there weren't many solutions in the marketplace".
The new high flashpoint heat transfer fluids are Duratherm S, a silicon-based thermal fluid; Duratherm G, a Polyalkylene Glycol, and Duratherm HF, a petroleum hydrocarbon.
These new formulations offer users a wide choice of not only high performance and longevity but also compatibility with competitive fluids. This also makes it easy and economical to comply with demands for higher flashpoint fluids.
Duratherm says its three new fluids will give heat transfer fluid users a clear solution to the flashpoint dilemma.
For over 25 years, Duratherm Extended Life Fluids has been servicing the heat transfer fluid industry worldwide with quality, effective and innovative products ranging from heat transfer fluid and related products, to thermal oils, thermic fluids and specialized lubricants.
Working closely with equipment manufacturers and their customers, they have an intimate and unrivaled understanding of real world concerns for heat transfer fluids, including pioneering the development and use of system cleaners as a maintenance tool.
###