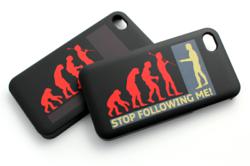 to reveal the hidden image, just add a little heat
(PRWEB) July 03, 2012
Anokimobi, the innovative UK mobile phone accessory company has just launched a unique range of smart phone cases that incorporate heat-sensitive print designs. The Rub and Reveal range of phone cases lets the user rub the design to reveal a hidden image; the heat-sensitive ink disappears when friction and heat are applied to show a secret image underneath.
The Rub and Reveal phone cases for iPhone 4/4S and Samsung Galaxy 3 launch with six humorous designs using this new print technique and are aimed at smart phone owners who want something that's fun and interactive where they can share the joke with friends.
http://www.youtube.com/watch?v=fRXu0zYovYY
For example one case design called "True Love" has the visible text "I LOVE MY BOYFRIEND." When the case is rubbed it reveals the subtext so the final legend reads "I LOVE it when MY BOYFRIEND lends me his credit card."
Made from hard plastic (ABS) to provide an excellent, protective fit the Rub and Reveal concept works well with humorous themes but images and logos can also be used.
Tom Tranter, Director of Anokimobi says, "Anokimobi is known for designing and manufacturing innovative mobile phone accessories such as our eco-friendly e-pouch range of cases, pouches and skins. To get the Rub and Reveal cases developed from concept to production was one of the more challenging products for us to get right as the printing technique had never been tried before. We wanted to create an interactive phone case that was fun and original – but the concept also has serious business applications.
Tom explains, "A plain, generic looking smart phone case could show an interesting side to the owner should they choose to reveal it as different parts of the case could contain different images or messages. This idea could work well as a promotional tool where only a few lucky cases are printed with a winning prize icon. What is revealed can be as risqué as you like, but the same technique can be used for most logos and images, your imagination is the main constraint"
While heat sensitive products such as cups and mugs have been around for a while, this is a first for a phone case. The process involves applying a transfer to the case and overlaying it with a layer of heat sensitive, thermo-chromic coating. When rubbed, the friction creates heat to make the ink transparent and reveal a hidden graphic underneath.
For Editors: Company Information
Anokimobi Ltd is a UK company specialising in the design and manufacture of bespoke promotional and retail products. For the last ten years Anokimobi's unique approach to design has enabled it to produce innovative products for many of the world's biggest brands.
Anokimobi was one of the first UK product design companies to see the mobile phone as the perfect platform to showcase a branded promotional item. They specialised in designing original mobile phone accessories with a twist and their expertise in the mobile phone accessories market led to them to developing their own successful ranges of eco-friendly cases and covers called e-pouch as well as skins branded as eco-skins made from materials such as organic cottons and recycled plastic.
For further information and images:
Tom Tranter tom(at)anokimobi(dot)com +0044 (0) 1273 606079
http://www.anokimobi.com/
http://www.e-pouch.co.uk/