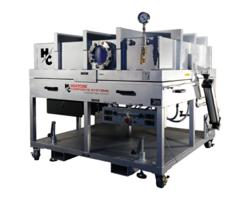 Repairing these complex structural elements requires more sophisticated, out-of-autoclave, repair methods than traditional hot bonded techniques.
Seattle, WA (PRWEB) October 10, 2012
Officials at HEATCON Composite Systems expect sales of innovative products, such as the firm's Double Vacuum Debulking Chamber (DVD), to increase as more sophisticated repair methods are required for new generation aircraft, like Boeing's 787 Dreamliner, where the designs are progressively dependent upon composite materials. Recent reports, including an article published last May in Reinforced Plastics magazine, substantiate that new higher-composite content aircraft designs will require more sophisticated repair methods.
HEATCON's Double Vacuum Debulking Chamber improves the fabrication of the high ply count repair patches required for thicker laminate composite components by more effectively removing the air and volatiles that get trapped between the plies during initial layup.
This process of removal, also referred to as debulking, is particularly important when large numbers of plies are required. Air trapped within a laminate and between plies can cause wrinkles and porosity during the curing process.
"Repairing these complex structural elements requires more sophisticated, out-of-autoclave, repair methods than traditional hot bonded techniques," HEATCON President Eric Casterline said.
When conventional methods are utilized, multiple debulk cycles may be required as plies are added.
However, the DVD enables higher ply count laminates to go through a single debulking cycle.
As a result, HEATCON'S employment of the double vacuum debulking technology found in the DVD Chamber presents an opportunity for users to achieve higher quality and more efficient manufacture of thicker composite patches needed to repair the latest aerospace designs.
Air and volatiles are normally removed from a six-ply composite laminate patch by applying vacuum and pressure at an elevated temperature. Removing gasses from higher ply count laminates, however, may be inadequate. The double vacuum system used in the DVD facilitates the escape of volatiles by removing pressure on the laminate during debulking. This greatly reduces the risk of porosity, improves fiber compaction and ensures the level of strength required for structural laminate repairs.
"This double-bag technique allows for the production of nearly autoclave-quality repair patches," Casterline said.
An added feature of the DVD is that it can be moved from one end of the shop to another.
"This allows floor space flexibility," Casterline said. "The DVD Chamber features portability, along with the ability to customize the size of the table to suit everyday needs."
HEATCON's product line represents 30 years of heat management experience and innovative designs which provide solutions, such as the DVD Chamber, for improving companies' composite repair capabilities.
About HEATCON Composite Systems
"Providing solutions for advancing your composite repair capability"
HEATCON Composite Systems is a leader in composite repair equipment, repair material sales and technical services for the composite repair industry. HEATCON's customers include the commercial and military aerospace, automobile, marine and wind energy industries. HEATCON is considered the foremost supplier of repair products including hot bonders, blankets and supporting accessories. HEATCON is also a global source for training, and has developed basic composite courses consistent with worldwide standards. Visit http://heatcon.com/ for more information.