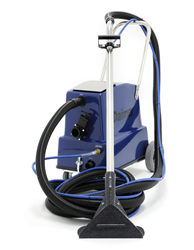 Daimer® is excited to offer in our XTreme Power® XPH-5800T mobile carpet extractor a machine that maximizes cleaning staffs' efficiency by providing exceptional cleaning results in a fraction of time. The low flow system with high pressure levels ...
Woburn, MA (PRWEB) January 09, 2013
Daimer Industries, Inc.®, a highly-popular American brand offering in excess of 700 models of industrial as well as commercial cleaner systems shipped to over 240 countries, supplying such technologies as portable carpet cleaning equipment, industrial-grade truck mount carpet cleaners, versatile floor cleaning machines, many models of vapor steam cleaners, and other robust, high-quality cleaning machines, is now shipping its XTreme Power® XPH-5800T that offers effective, powerful, and efficient cleaning results with the pressure rivaling large models for motel cleaning.
Carpeted lobbies, guest rooms, dining areas, and others are extremely difficult to maintain with weaker, less advanced machines. The XPH-5800T carpet cleaner with Daimer®'s exclusive technologies, rugged construction, high suction power, and high temperatures in a smaller form factor can help cleaning professionals maintain carpeted surfaces anywhere within motels.
"Motel carpeting is similar to those within larger hotels, and its proper maintenance requires similar, highly sophisticated machines with superior technologies. Reputation is everything, especially within the hospitality industry, and dirty carpets can hurt business as much as any other factors," states spokesman of Daimer Industries, Inc.®, Matthew Baratta. "Daimer® is excited to offer in our XTreme Power® XPH-5800T mobile carpet extractor a machine that maximizes cleaning staffs' efficiency by providing exceptional cleaning results in a fraction of time. The low flow system with high pressure levels up to 170 psi and temperatures as high as 150º F cleans more effectively than most other equipment on the market."
Cleaning workers in motels with high guest traffic must focus on cleaning quickly with the hopes of drying the surfaces as quickly as possible. Daimer®'s sophisticated technologies, one of which is a lower emission of water onto the surface, reduces the need to use as much water to achieve the desired results. The less water flowing from the machines, the less the flow will have a chance of penetrating the carpet padding, thus reducing drying times considerably. The XTreme Power® XPH-5800T highly maneuverable carpet shampooer dries carpets within a fast four hours, which is exceptionally quicker than other brands' machines, which can take up to 24 hours with some truck mounted systems used by many outside cleaning contractors.
While dry vapor steam cleaner technologies are ideal to clean most hard surfaces with rooms, they simply lack the necessary pressure and flow to offer more than carpet spot and area cleaning ability. Heated water flow with simultaneous extraction is critical for deep carpet cleaning.
Daimer®'s patented XTreme-XTraction™ wand technology offers excellent suction power that is equivalent to a separate vacuum motor that combines with the system's internal vac. The three foot wand with a twelve inch head is included with each XPH-5800T commercial carpet cleaner and offers 60 percent greater suction than any other wand in the world. The special self-adjusting head forms a constant seal on the carpet while the head simply glides over the surface. The relatively light machine is so easy to operate that even a non-professional, male or female, can clean like an expert, making the system among the best carpet cleaner systems to maintain motel carpeting.
The company's carpet floor steam cleaner includes one powerful two stage motor offers a water column lift of 100 inches and air flow of 100 CFM for high cleaning power and faster drying. The XPH-5800T can attain temperatures as high as 150º F within just 15 minutes, due to the presence of one tank heating element. Machines from other brands take over twice the time to heat water to high temperatures, which increases the wait time and reduces a cleaning professional's productivity.
Easy recovery chamber drainage from the carpet extractor makes the cleaning job easier, as simply pulling a latch and letting the water empty into a bucket drains dirty water from the extraction chamber. Water drainage takes seconds, and the water can be poured into a toilet or down an appropriate floor drain.
For increased user productivity, Daimer® 1,600 watts XPH-5800T carpet shampooer comes with long 25' hoses with a cleaning radius of 2000 square feet even when the machine is in place. Buyers can use the system as a fabric upholstery cleaning machine, since they can purchase an optional 4 inch upholstery tool for maintaining cloth upholstery, which often becomes dirty and not cleaned during regular room maintenance. An optional stair wand is available for those requiring such a tool.
Daimer®, during promotions, is offering free a two gallon set of its powerful, yet completely safe Eco-Green® Carpet Care & Upholstery Cleaner with all of its carpet cleaner machines. The cleaner is completely plant based and soap free, and does no harm to the environment or people with allergies, asthma, chemical sensitivities, or other respiratory ailments.
The Eco-Green® solution leaves the carpets cleaner with absolutely no residues left behind to attract dirt. Carpeting stays cleaner longer and the solution improves indoor quality as well. The liquid is safer for workers to use than harmful chemicals, which have been known to cause cancer. Two gallons of the concentrated liquid can make up to 64 gallons of ready-to-use liquid that can clean nearly 64,000 square feet of carpets.
For Additional Information:
To obtain more details about the XTreme Power® XPH-5800T, visit Daimer®'s website, or call Matthew Baratta at (888) 507-2220. The carpet cleaning equipment is marketed globally to most nations.
About Daimer Industries, Inc.®:
Daimer Industries, Inc.® is the world's leading supplier of advanced cleaning systems. The company's wide product line features hundreds of models of the industry's best carpet cleaner systems, industrial grade truck mount carpet cleaning machines, steam pressure cleaners, vapor steamers, carpet extractors, hard surface cleaning machines, and many other technologies for most applications, such as auto detailing, tile and grout cleaning, and more.