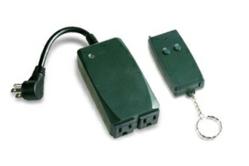 The heated mat remote is great--I don't have to leave my mats on when there's no snow.
Cleveland, Ohio (PRWEB) January 28, 2012
Martinson-Nicholls' new Heated Mat and Stair Treads Remote Control allows turning the snow-melting mats on and off from inside a home or commercial facility with the click of a button. There's no longer a need to have the mats plugged into a switched outlet with this new remote control system. It controls Martinson-Nicholls' heated mats and stair treads that prevent snow and ice accumulation on the outdoor steps and entrances to your building. Rated at 15 amps, this 120VAC remote system works from up to 100 feet away.
Red and green indicator lights display whether the heated mats are on or off. The wireless remote works with a module that includes two outlets, allowing it to control two heated mat and/or stair tread systems at the same time.
The heated mats and treads generate sufficient heat to melt snow at a rate of 2" per hour, leaving steps to your home clean and clear 24/7. As long as the amperage is not exceeded, the remote system can be used with interconnected mats or treads to control a continuous system of snow melting mats.
The Heated Mats and Stair Treads feature watertight connector cables, and along with the remote, the company offers connector cables to connect the mats to other mats or treads. Up to 15-stair tread mats can be handled by a single remote control unit. Martinson-Nicholls web site includes a calculator that displays the total amperage for the number of mats selected.
"The heated mat remote is great--I don't have to leave my mats on when there's no snow," volunteered one customer from Cleveland, Ohio.
About Martinson-Nicholls
Martinson-Nicholls, has established itself as a leader in custom anti-slip tape, heated floor mats, and eco-friendly floor matting for more than 25 years.
Martinson-Nicholls provides the customer with the exact size matting needed--small, large, standard, nonstandard, special shapes and logos. Custom installations are also a specialty of the company.
Anti-slip safety tapes and treads are available in various sizes and textures from hand cut or die cut pieces to full rolls and special shapes. For more information, please visit http://www.floormat.com.
# # #