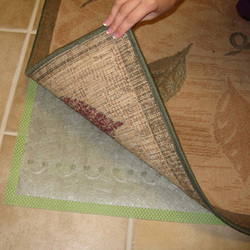 We purchased 2 pads (RugBuddy) to go under carpeting in our family room, which is located over an unheated crawl space. We live in northern Indiana and last December was unusually cold. We put RugBuddy to the test. It surpassed our expectations
Cleveland, OH (PRWEB) February 10, 2010
Martinson-Nicholls, Inc. upgraded RugBuddy heating mats can be wired together to create large areas of on-demand radiant heat for any room or office. The UL-listed warming system features an extremely thin membrane with embedded heating elements designed to be placed under area rugs or carpet that is not glued down.
By daisy-chaining multiple units, RugBuddy can be used to heat entire rooms or specific areas in a room off a single electrical circuit or thermostat. Even different areas within one room, such as a desk and sitting area, can be heated from a single plug or thermostat. Using only 11 watts per square foot, RugBuddy provides economical, radiant heat when and where you need it most.
Rhonda Haulish of Elkhart, IN had this to say about the RugBuddy system:
"This is just a note to tell you how pleased we are with your product. We purchased 2 pads (RugBuddy) to go under carpeting in our family room, which is located over an unheated crawl space. We live in northern Indiana and last December was unusually cold. We put RugBuddy to the test. It surpassed our expectations. We have always had to have extra blankets on our chairs for those chilly nights. I have put them away. It's amazing what a little warmth on the floor can do to keep the entire room comfortable."
RugBuddy heated mats are offered in five different sizes, offering great flexibility for both single mat and multiple mat configurations. The mats are durable, waterproof, and can be used under furniture legs, rolling office chairs, and do not need to be removed when steam cleaning carpets.
About Martinson-Nicholls
Martinson-Nicholls, has established itself as a leader in custom anti-slip tape, heated floor mats, and eco-friendly floor matting for more than 25 years.
Martinson-Nicholls provides the customer with the exact size matting needed--small, large, standard, nonstandard, special shapes and logos. Custom installations are also a specialty of the company.
The company is sponsoring a new blog on Cleveland Industrial History, with entertaining and informative stories on Cleveland's key role in industrial history.
Anti-slip safety tapes and treads are available in various sizes and textures from hand cut or die cut pieces to full rolls and special shapes. For more information, please visit http://www.floormat.com.
###