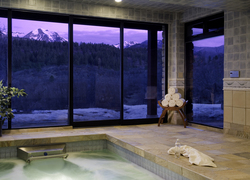 Those rooms are famous for getting riddled with condensation,'' said Truax. ''Right off the bat, I thought Thermique heated glass would be a perfect fit.
Chicago, IL (Vocus) October 7, 2008
Thermique Technologies offers the solution to condensation on the windows around indoor pools, saunas, and steam showers. By installing window units with Thermique™ heated glass, problems with fog, steam, and moisture simply disappear. In addition to complete condensation control, swimmers/bathers coming out of an indoor pool or steam shower will feel no chill or drafts coming off the windows. They are able to dry off in complete comfort.
Thermique technology transforms an ordinary pane of glass into an extraordinary heating device. The glass itself radiates warmth uniformly and with precise control. When the glass temperature is above the indoor air temperature, moisture will remain in the air and off the glass. Condensation problems are solved.
Less advanced heated glass technologies have been available to architects, builders, and homeowners in Europe for more than a decade. Now, Thermique Technologies is taking the lead in introducing a superior heated glass for architectural windows throughout the United States and Canada. Only Thermique is UL® approved to provide heated glass for architectural windows.
The initial installations are producing amazing results. Gary Truax served as construction manager for the remodeling of a luxury ranch in the mountains near Durango, Colorado. The homeowner challenged him to find a solution to the steamed-up windows surrounding his indoor pool. "Those rooms are famous for getting riddled with condensation,'' said Truax. ''Right off the bat, I thought Thermique heated glass would be a perfect fit."
After hearing about the benefits of heated windows, the homeowner requested that they be installed inside a steam shower area in the master bath as well. The homeowner reports that when the Thermique heated glass is turned on, condensation is never a problem. "The windows have been completely clear,'' he noted. ''There hasn't been a drop of water on it."
As a heating device, windows with Thermique heated glass are perfectly transparent, completely quiet, and energy efficient. Architects are free to design with as much window space as they can imagine without any of the drawbacks associated with cold glass. The glass temperature is adjustable with a patented, wall-mounted controller. At the highest setting, the window can reach up to 105º F.
Builders report that windows with Thermique heated glass are remarkably easy to install. ''When you have a product like this, it's almost like a day off because it's self-explanatory,'' Truax said. "Everything went smoothly from start to finish. It's great to work on a project where the glass has not done anything but perform as promised. It takes the whole call-back consideration away from us."
About Thermique Technologies
Combining more than 60 years of experience with cutting-edge expertise, Thermique Technologies, LLC, is today's premier developer of heated glass technology. Thermique heated glass is utilized in heated windows, glass towel warmers, and heated food service cabinets. Headquartered in Chicago, Ill., Thermique Technologies is a wholly owned subsidiary of Engineered Glass Products (EGP).
To learn more about Thermique heated glass technology and its many applications, call (312) 326-9193 or visit http://www.thermiquetech.com .
# # #