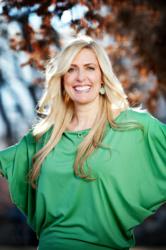 Boulder, CO (PRWEB) February 12, 2013
This month, Miss Millennia Magazine is talking about dating, relationship and love and their cover girl is Heather Hans, Boulder-area love and relationship expert.
Hans, a spiritual healer, believes that the world is ready for a deeper experience of love. Through her practice, Hans is able to inspire others and help them to fulfill their dreams through the relationships they create and the love they emanate to the world.
Every month, Miss Millennia Magazine showcases one extraordinary woman to be their Lady Lennia of the month. Lady Lennia represents the best of women in their respective field, for Hans that's love and relationships.
Hans gave up a successful career as a CPA and tax consultant to purse her passion and calling to help others. To Hans, nothing is more fulfilling than reaching the world through a kind of loving energy that was beyond the scope of traditional psychotherapy and social work.
She says, "Love and relationships are the essence of life. Through our relationship with ourselves, a higher power, other people, the earth, the list goes on; we are able to experience our fullest potential as human beings and as vessels of love."
Read more about Heather Hans in the February issue of Miss Millennia Magazine, and read the feature profile at http://www.missmillmag.com/ladylenniaheatherhans/.
About Heather Hans
Heather Hans, LSW, MSW, CPIC, MSBA is a Healer of Love, who teaches the world a new way of overcoming fear and suffering. She has the gift of being able to channel in pure divine loving energy to help you remember who you are and open your heart, so that you can heal your body, mind, and soul, and move forward. She is launching a new TV show this month and also offers live workshops and private sessions. For more information visit http://www.heatherhans.com/.
About Miss Millennia Magazine:
Miss Millennia Magazine is a place for "Generation Y" women to get all the information they need to stay informed and better themselves. Miss Millennia Magazine believes in empowerment through knowledge and liberation through education. We want to help women reach their fullest potential with information and support.