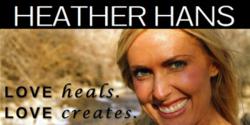 Boulder, CO (PRWEB) January 22, 2013
Spiritual Healer, Heather Hans, would like to invite you to join her free monthly teleseminars exploring topics of the moment as well as those many find reoccurring along their path to their fullest potential. On January 29th at 1:00 PM MST, Heather will guide you to your deepest, most powerful self so that you can use the power of your pain to live your best life.
"An extraordinary life and love is possible for all, no matter what obstacles the day brings," says Hans, whom has been helping individuals heal their suffering in her holistic Boulder, CO practice. Her inclusive approach guarantees that participants may join an in depth conversation on how to form new healthy habits.
Participants may send personal questions for Heather to address at extraordinarylove@heatherhans.com. It is a great opportunity for people who cannot otherwise afford private therapy and healing sessions, and for those who would like to remain anonymous in their healing process.
Heather facilitates health and healing on all levels to create total wellbeing. Her active approach explores the essential steps necessary to build the life of your dreams, and address the issues that hold you back from realizing it. In these monthly seminars, learn how to create a solid foundation of physical, mental and spiritual health that will support you in your daily relationships and endeavors.
Join Heather for this life-changing teleseminar where her role as a channel of love will open your heart and propel you forward. Darran Blake, Senior Vice President of UBS states that "Heather Hans possesses a litany of personal and intellectual qualities to provide others with viable and beneficial pathways to reach their greatest potential." Accompany Heather on this journey of potential by calling (206) 402-0100 and entering pin code 809378#.
For more information and updates on healing your life and growing into your fullest potential, like Heather on Facebook or follow her on Twitter.
About Heather Hans
Heather Hans, LSW, MSW, CPIC, MSBA is a Leader of Love, who teaches the world a new way of overcoming fear and suffering. She has the gift of being able to channel in pure divine loving energy to help you remember who you are and open your heart, so that you can heal your body, mind, and soul, and move forward. She leads therapeutic and educational workshops and serves clients in her private practice. For more information visit http://www.heatherhans.com/.