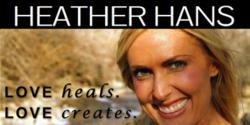 Heather has a deep personal commitment to healing and the mind-body connection. She's lived it personally and is committed to bringing that same level of healing to others
Boulder, CO (PRWEB) June 12, 2012
Does your life demand a lot of energy? Learn concrete ways to feel enthused and energetic without relying on caffeine, sugar or drugs from Heather Hans. As a psychotherapist and spiritual healer, Heather serves the greater Boulder area, as well as clients nationwide, as a holistic health expert and provides counseling on physical, mental, spiritual and financial health.
"Energy Essentials" is Heather's latest workshop in a series of ongoing therapeutic events. The workshop is Sunday, July 8, 2012, from 2:00-5:00PM at The Integral Center in Boulder, Colorado.
Heather will show how to master life with grace, using the following techniques:

Lifestyle organization
Physical Health keys
Creative Play
Rejuvenating Rest
Positive Thoughts
Law of Least Resistance
And more
The registration fee is $75.00 which includes refreshments. Registration for the event is still available at http://www.heatherhans.com/.
Heather has received glowing recommendations from her clients and past workshop attendees, "Heather has a deep personal commitment to healing and the mind-body connection. She's lived it personally and is committed to bringing that same level of healing to others;" "THANK YOU for everything you did to make this event a huge success! We thoroughly enjoyed the workshop and we were very impressed with you and your leadership style."
Upcoming events on Heather's workshop calendar include:

September 30: "Health, Wealth, and Abundance"
November 11: "Love Will Set You Free"
TBD: "Healing Through Humor"
About Heather Hans
Heather Hans, LSW, MSW, CPIC, MSBA, CPA, is a healer, teacher, psychotherapist, intuitive coach and business woman with over a decade of experience with the laws of energy, holistic health and dynamic living. Heather is dedicated to the highest form of compassionate healing, combing her professional knowledge, ethical leadership and spiritual nurturance to serve the community. She leads therapeutic and educational workshops and serves clients of all ages in her private practice. For more information about the workshop or to book private sessions visit http://www.heatherhans.com/.