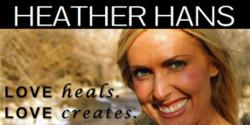 Boulder, CO (PRWEB) July 17, 2012
As a psychotherapist, professional coach, spiritual guide, and business woman, Heather Hans has transformed her life on every level. She now partners with clients who are serious about success and confirms that anything is possible, but only for those who are highly motivated, creative, brave, astute, and are driven by a desire to contribute to the world.
Having it all is achievable. Obtaining success and the life of your dreams is a step-by-step process, each piece building on itself, which takes time, dedication, and full responsibility for one's life.
If you're someone who wants big success in your life, try Heather's five tips:
1. You must believe. Our thoughts are the beginning of our desires manifested. All successes that you have already achieved are a result of your belief that you could do it. Once you have this belief, there are other steps you must follow, but unlimited belief is foundation of it all.
2. Build a foundation of health. Develop a healthy mind, body, and soul as a foundation for all great success. A wide variety of professionals and self-help resources are necessary in this endeavor. You play the biggest role in these efforts, however, so you must be diligent in your efforts and trust your instincts.
3. Determine your deepest desires. Your diligence and the laws of energy will work in your favor once you become certain of your goals. The key is to select the goals that are truly in line with your values. Goals that are rooted in love and betterment of the world are most likely to be supported by the universe and achieved.
4. Develop a business mind and be brave. Goals are achieved through plans, action, organization, seizing of opportunities, and results. Intentions alone will not create success. Also, learn to dismiss the many voices that will try to sabotage your success and criticize your big dreams. Having courage does not mean that you are not scared of the unknown. It means, even though you are scared, you persevere anyway. And remember, any gate or door that closes on you, a more enchanting one will open a few steps up.
5. Have fun and let your inner child shine! The process of fulfilling your dreams canvas with you as the artist. When you have fun with it, you relax, and when you relax, you have renewed energy and are inspired with creative ideas and solutions. Plus, enjoying life is the biggest success of all.
To get more information on success strategies, like Heather on Facebook or follow her on Twitter.
About Heather Hans
Heather Hans, LSW, MSW, CPIC, MSBA, CPA, is a healer, teacher, psychotherapist, intuitive coach and business woman who has transformed her life on every level to achieve success. Heather is dedicated to the highest form of compassionate healing, combing her professional knowledge, ethical leadership and spiritual nurturance to serve the community. She leads therapeutic and educational workshops and serves clients of all ages in her private practice. For more information visit http://www.heatherhans.com/.